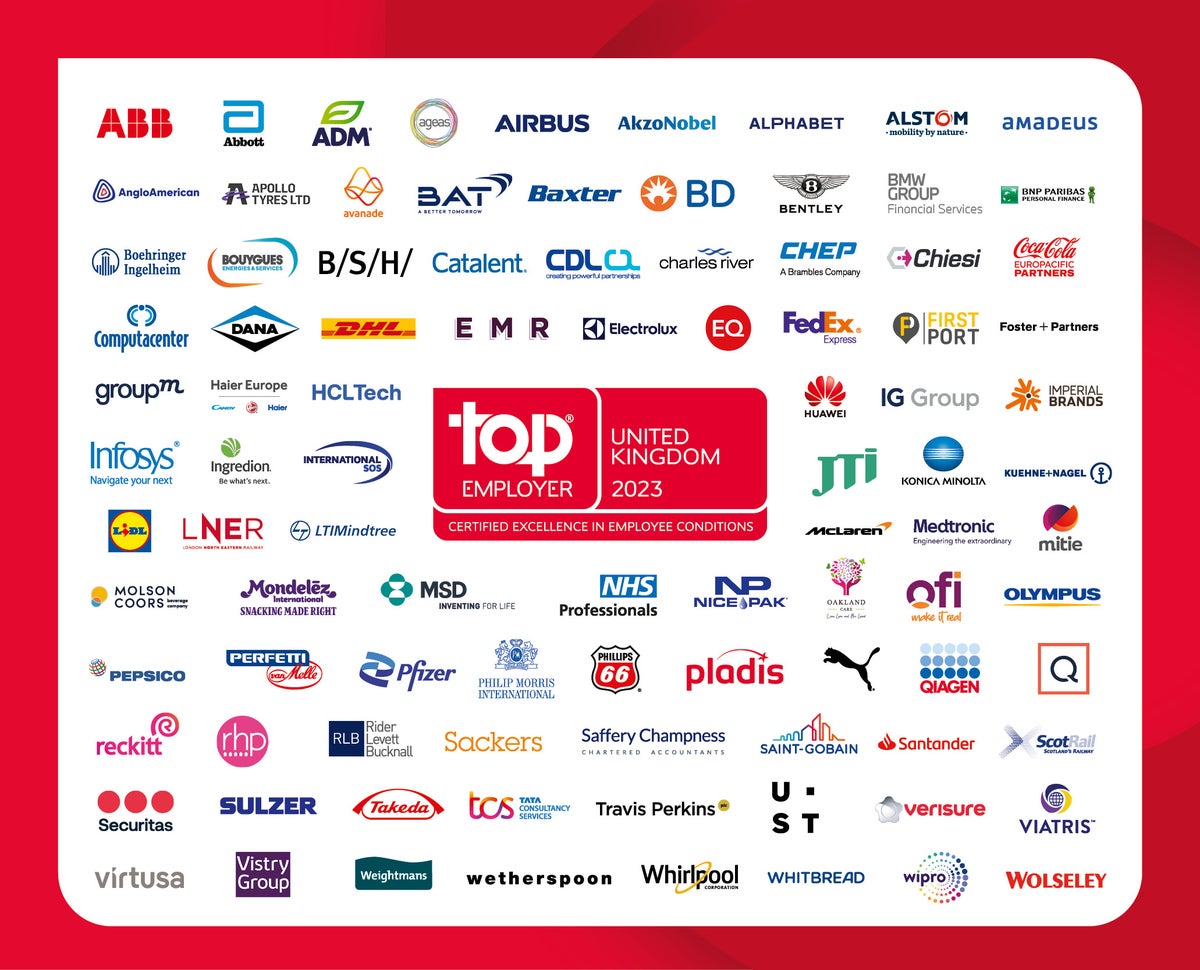 Top Employers Institute has announced the UK's Top Employers for 2023, certified for their outstanding HR policies and people practices
Among 2023's participants, 17 organisations have been certified for the first time, including Baxter Healthcare UK, Haier Europe UK & Ireland, Anglo American and Ingredion UK. Other first-time certified Top Employers this year include Verisure, Sulzer, BD, Vistry Group, QIAGEN, Coca-Cola Europacific Partners, Apollo Tyres UK, BMW Financial Services, ofi, Viatris UK, RHP Group, DHL Cross-Border Solutions UK and Airbus UK.
A number of businesses already certified as Top Employers in previous years have performed with enduring excellence, with the likes of Bentley Motors, HCLTech, Molson Coors Beverage Company, QVC, Santander, Travis Perkins, Virtusa, Weightmans LLP and Whitbread, among others, having achieved Top Employer Certification annually for more than a decade.
Our latest research among these employers shows that improving the "employee experience" will be their highest HR priority in 2023. It is these businesses that others should look to: they excel in giving employees the very best experience possible, day in and day out.
"We are proud to celebrate and recognise our Certified UK Top Employers 2023 for their world class people practices," says Androna Benadé, Regional Manager (UK and Ireland) at Top Employers Institute. "The world of work has undergone significant change over the past few years, and the Top Employers Certification recognises these organisations for what they are continuously doing to support and develop their people. On this momentous occasion, we congratulate and thank every Top Employer for their dedication and contribution this year."
The certification process
To achieve Top Employer Certification, participating organisations are assessed by Top Employers Institute via a rigorous analysis of their people practices. The HR Best Practices Survey covers six HR domains consisting of 20 topics across the business and employee lifecycle, including people strategy, work environment, talent acquisition, learning, wellbeing, and diversity and inclusion. The information is then validated and audited independently to ensure the integrity of the processes and data.
This year, Top Employers Institute has certified 2,053 Top Employers in 121 countries and regions across five continents. To be eligible for participation, organisations must have at least 250 national or 2,500 international employees, as well as advanced, formalised HR practices.
Find out more about the Top Employers Programme and how it can help your organisation to grow as an employer of choice.
Originally published on Business Reporter