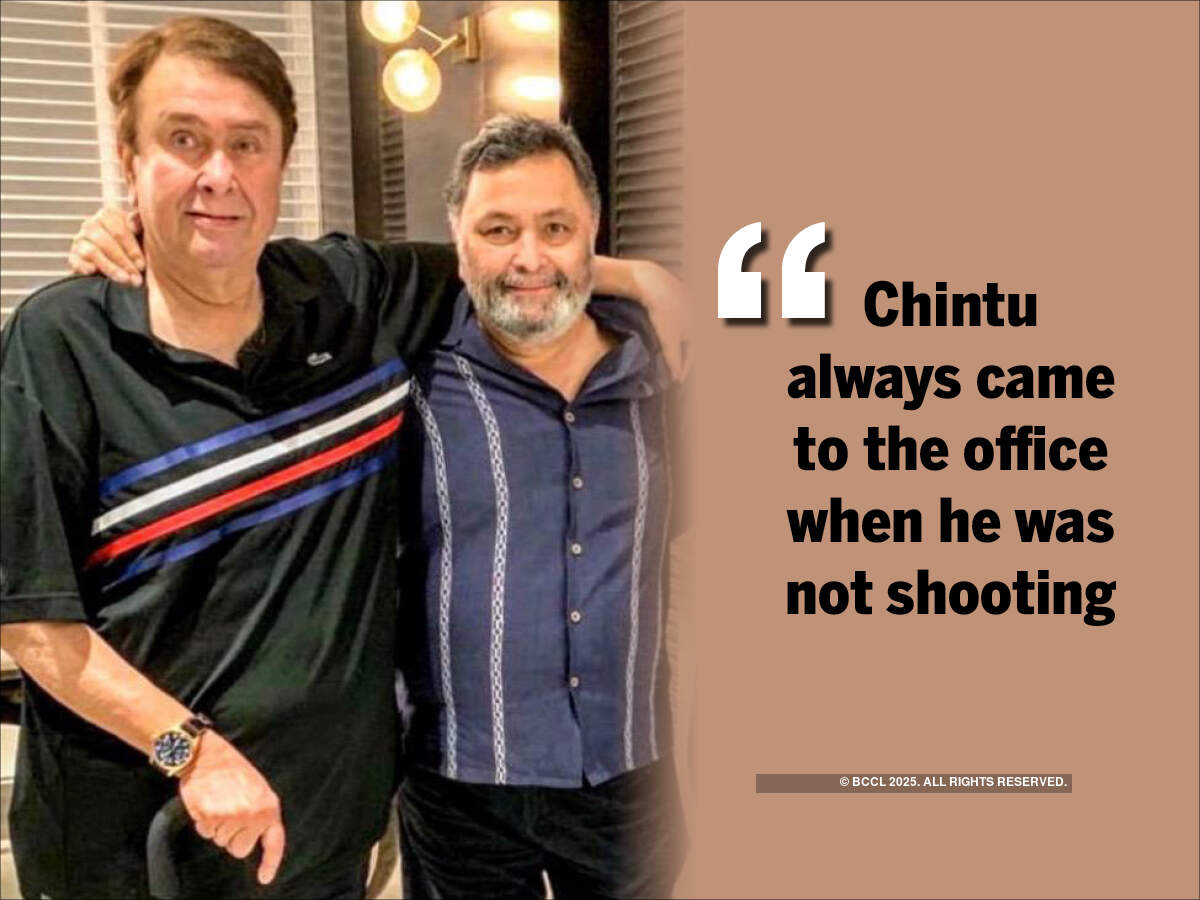 Rishi Kapoor
left the world of living on April 30, last year. Bollywood will never be the same again.
Randhir Kapoor
will never feel the same again. ETimes caught up with the senior actor–a day before he tested positive for Covid-19 and was hospitalised at the Kokilaben hospital where his condition remains stable–to reminisce about Chintu (as Rishi was fondly called). The conversation naturally also veered towards Randhir's youngest brother Rajiv, who, too, passed away on February 9, 2021. Excerpts:
We begin from your last statement to the media after Rajiv Kapoor passed away that 'you are now left alone in your Chembur house'…
The last year has been a very sad time in my life. 'Sad' is really a modest word here; 'worst' would be apt. In a matter of 10 months, I lost both my darling brothers- Chintu (Rishi Kapoor) and Chimpoo (Rajiv Kapoor). Also, I lost my mother (Krishna Kapoor) and sister (Ritu Nanda) in the last two-and-a-half years. We–my three brothers and two sisters–were extremely close to each other. Chintu, Chimpoo, and I interacted with each other every day. Chimpoo lived with me and Chintu either came to the office on the days that he wasn't shooting or spoke to me on the phone. We didn't need anybody when we three were together. We were a very happy circus by ourselves. We were a robust crowd! All that is over. There's not a single day that I don't think about them. One year may have passed but there's not a single day that I don't think about them. Life will never be the same again.

And the tragedy of RK Studios getting gutted in a fire…
Yes. That was another big tragedy. We hadn't given away what our father wore in every film that he made under the home banner of RK Films; we had even kept his topi and shoes from 'Awara' and 'Shri 420'. All that is gone. In fact, I lost everything that I had kept there in a very organised way. I lost all our trophies. I have no picture of our youth. I have no memorabilia of my father Raj Kapoor. I have no pictures of our shooting and scenes.
Think of it, the industry had almost stopped shooting in the RK Studios sometime back. Nobody wanted to come to Chembur, I guess. It's the Western suburbs that had started to dominate when a producer chose a location or put up a set in Mumbai especially after the Metro Rail work started. I was incurring a big loss. So after the fire, Chintu, Chimpoo, and I decided that we should sell it. But I can tell you for sure that we wouldn't have sold it if the fire hadn't happened; RK Studios was a temple to us and I was still maintaining it.
How often do Kareena, Karisma, and Babita drop in to meet you?
Seldom, nowadays. The lockdown and the recent spike in coronavirus cases have decreased their visits. I myself don't visit Kareena; it's COVID times and she has two small kids. The birth of her second baby, of course, had happiness written all over it.
Correct us if we're wrong, but Rishi and you would have cute fights in childhood over who gets the window seat in the family's car…
Oh yes, that could be. All children fight over the window seat. I wish life rolls back and we get those days again. As for my equation with Chimpoo, he was just like my son; he was 15 years younger than me. He had a house in Pune but most of the time, he was in Mumbai. I just wish them well. I hope they are happy wherever they are and in whichever form.
Do you go over to Neetu's place to meet her, Ranbir, and Riddhima?


Yes, I do. They are family to me. I feel sorry for them. Neetu lost a loving husband, and Ranbir and Riddhima, a loving father. It is good that Neetu went on to do a film ('Jug Jugg Jeeyo'); she kept herself busy.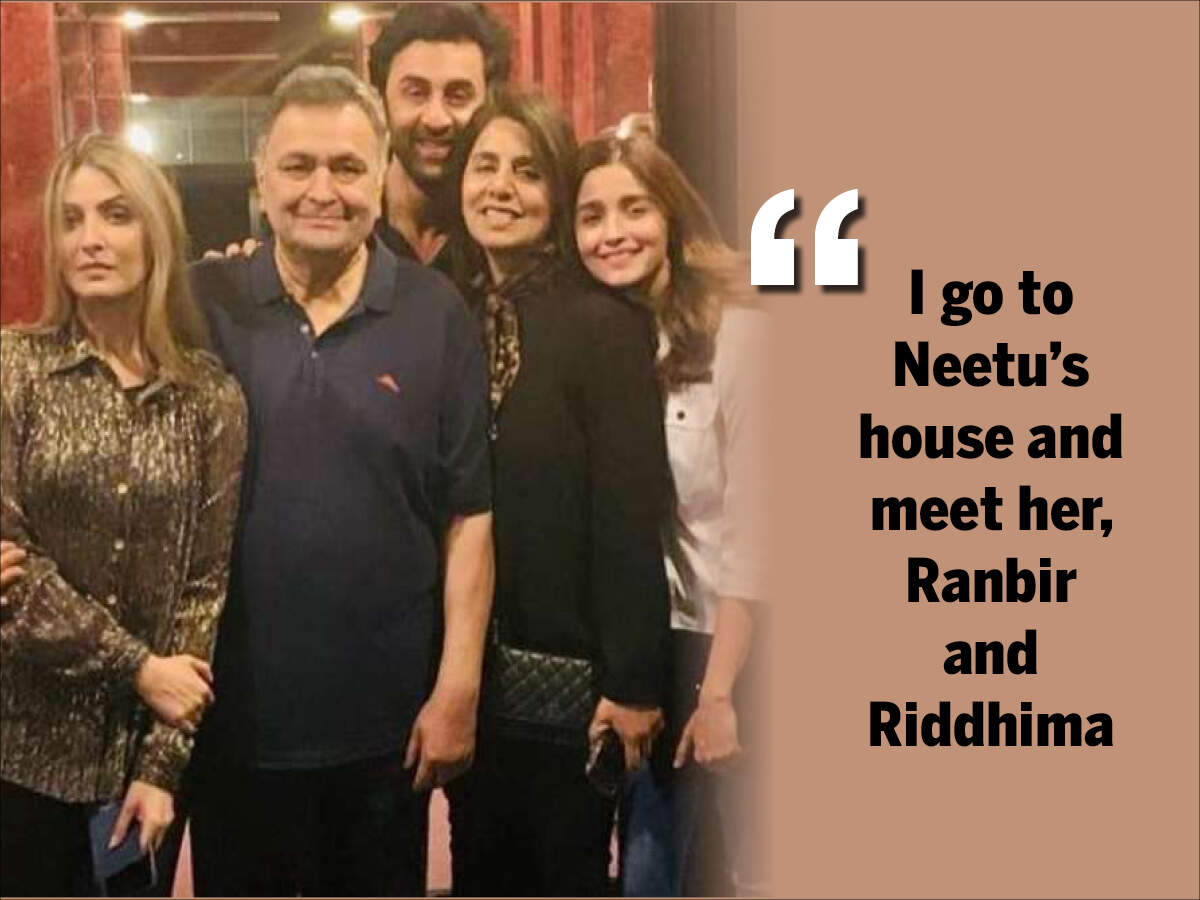 Did Rishi, Rajiv, and you differ on certain things in life?


Very often. There would be instances where our views were different but those discussions were always healthy.
Were there times when you would stop talking to each other?


Never. We were brought up as a close-knit family. If you look at the picture of the Christmas party, which is taken at Shashi Kapoor's son Kunal's house, X'mas party is hosted still in exactly the same way as his mother held; it gives you ample idea of how close our family has been. And I give the credit for that to my grandmother (Prithviraj Kapoor's wife, Ramsarni Kapoor) and mother (Krishna). Nothing, including money, was 'yours' and 'mine', it was 'ours'. Our mom and dad passed away, we didn't fight, when we sold RK Studios, we didn't fight. There have never been any fights in the Kapoor family. We are close to even our cousins-like the way Rishi's children and mine interact with Shashi and Shammi's children.
Rishi must have been looking forward to moving into his new house Krishna Raj and Ranbir's marriage…
Of course, Krishna Raj is being made into 17-18 floors, and all the floors will be with Rishi's family; it's not for sale. One floor will be a gym, one floor will be the servants' rooms… he was building it in that manner. He was also very happy about the many acting offers he was getting.
Any idea about when will their house Krishna Raj be ready?


Really, I have no idea. We never asked too many questions to each other. That's why we were happy. We just looked forward to meeting each other and chatting away to glory amid good food and good drinks. And we never chatted about anybody specifically. We were never concerned about which actor is doing what.
One memory of both Rishi and Rajiv that comes to mind?


'Which Chinese restaurant should we go, tonight?' that was the line, which was so often said between us. If anybody recommended any Chinese restaurant to us, we would invariably land up there ASAP. We would invariably eat Chinese food when we dined together. We would even go to the Grand Maratha hotel for Chinese food at 1 am. The connoisseurs employ special chefs; Rishi and I both have them. Whoever was employed by my mom and dad is still with me.
Did you'll get high at times?


Several times! And when we were talking to each other fondly, people around us felt that we were fighting. But, we didn't mind that; we thought it was a part of the game. We three were typical Punjabis who were loud, boisterous. I miss those days so much!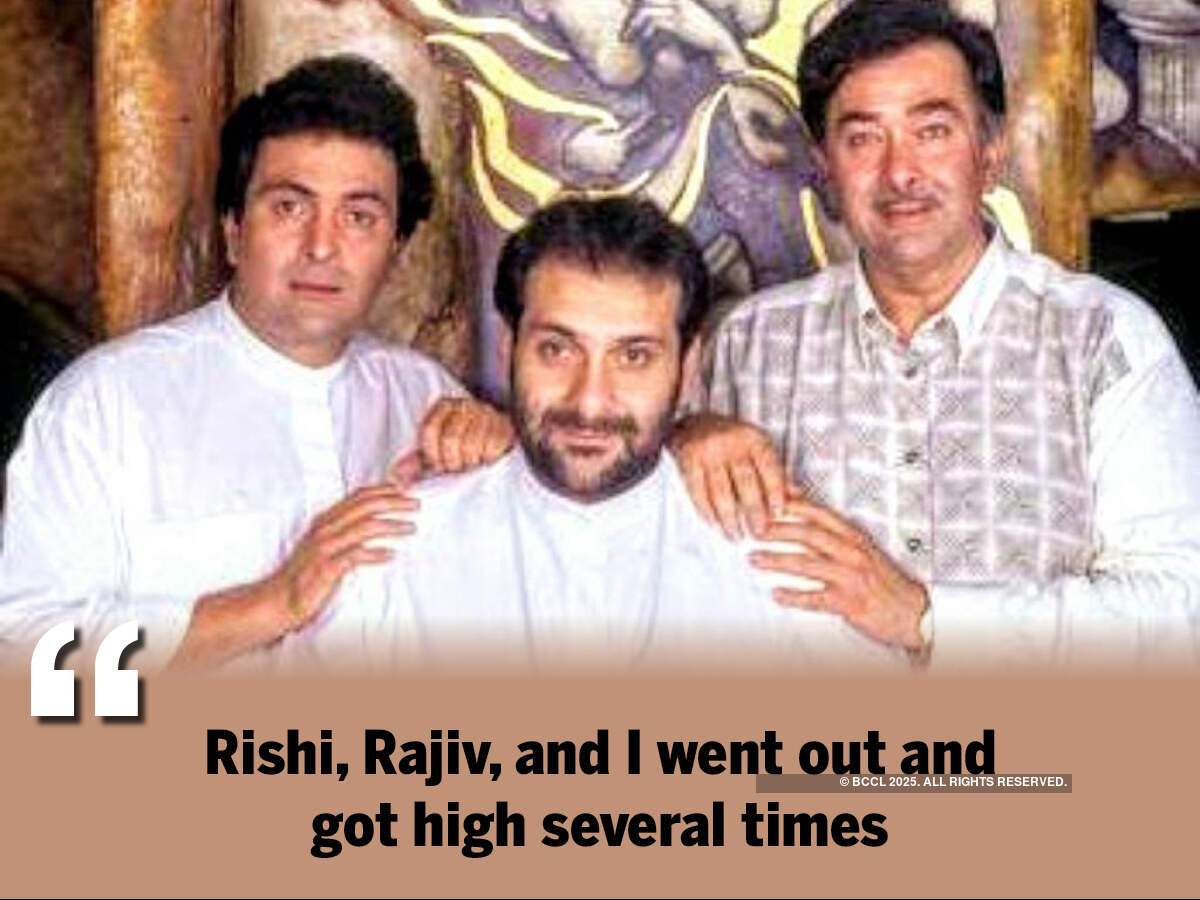 Rishi had a very typical set of T-shirts that looked like sweaters on screen…


Those T-shirts he wore in his movies belonged to him. He loved them; that was his style.
Rajiv must have been eagerly waiting for his comeback film, Ashutosh Gowariker's 'Toolsidas Junior'…


Yes, he was very excited about that. The film is complete.
Was Rajiv disappointed that he didn't have a smooth run in his career?


He must have felt that, but he didn't ever tell me. He didn't have a big hit after doing a film like 'Ram Teri Ganga Maili'. I feel bad for him that he went away without seeing success. He made a very nice film 'Prem Granth' but unfortunately it didn't run. Shaayad, sabka apna apna bhagya hota hai (Perhaps everyone has their own destiny).
Did Rajiv ever tell you that he wants to get married again? It was said that he wanted to settle down with an air-hostess friend in Pune…
Well, he married once (with Aarti Sabharwal) and it didn't work out. After that, he didn't want to marry. He was happy with his girlfriends. I can't get over it that he's no more. He had no problem whatsoever. He had spoken to me at 1 o'clock in the night but when my nurse went to wake him up in the morning, he had no pulse.
Has it occurred to Babita or you that she should move in back with you?


Babita and I meet up and we are happy the way we are. But well, I have bought a place in Bandra. I shall be moving out from my Chembur home. Thus, I will be closer to my wife and daughters. The new house is being done up. The work stopped twice due to lockdown, else it might have been ready by now.
Will you sell off the Chembur house?


Yes, it's too big for me to live in it. And I must tell you this: my mom and dad said told me that I can live here as long as I want; if I ever want to sell it, then the sale proceeds should be divided between Rishi, Rajiv, Ritu, Reema and I. And, I told them that it will be done; that's not going to be a problem. I have bought my Bandra place even before selling the Chembur home. I had a good career and I am from a well-to-do family; I have invested well.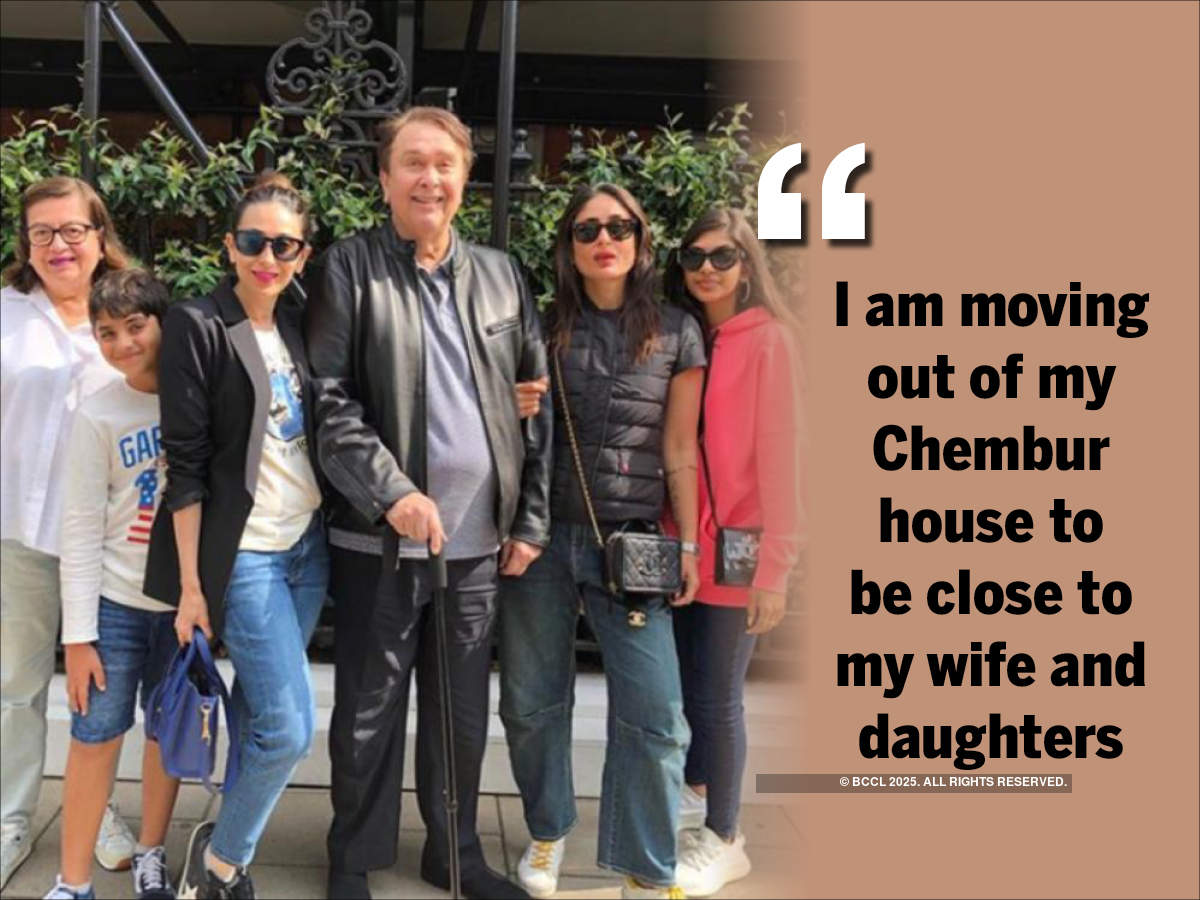 Was financial acumen your forte or did your father guide you?


Let's not forget that my wife is Sindhi with a very good financial acumen.

How is your health now? You had earlier said that you have a leg problem…


I am taking physiotherapy and responding to treatment. There's some problem, but otherwise, I am okay. But my day starts at 12 noon. I don't get up before 12 pm. I try to sleep as much as I can; sochta hoon ki aadha din nikal jaaye (I think let half the day pass by before I wake up). I am lonely.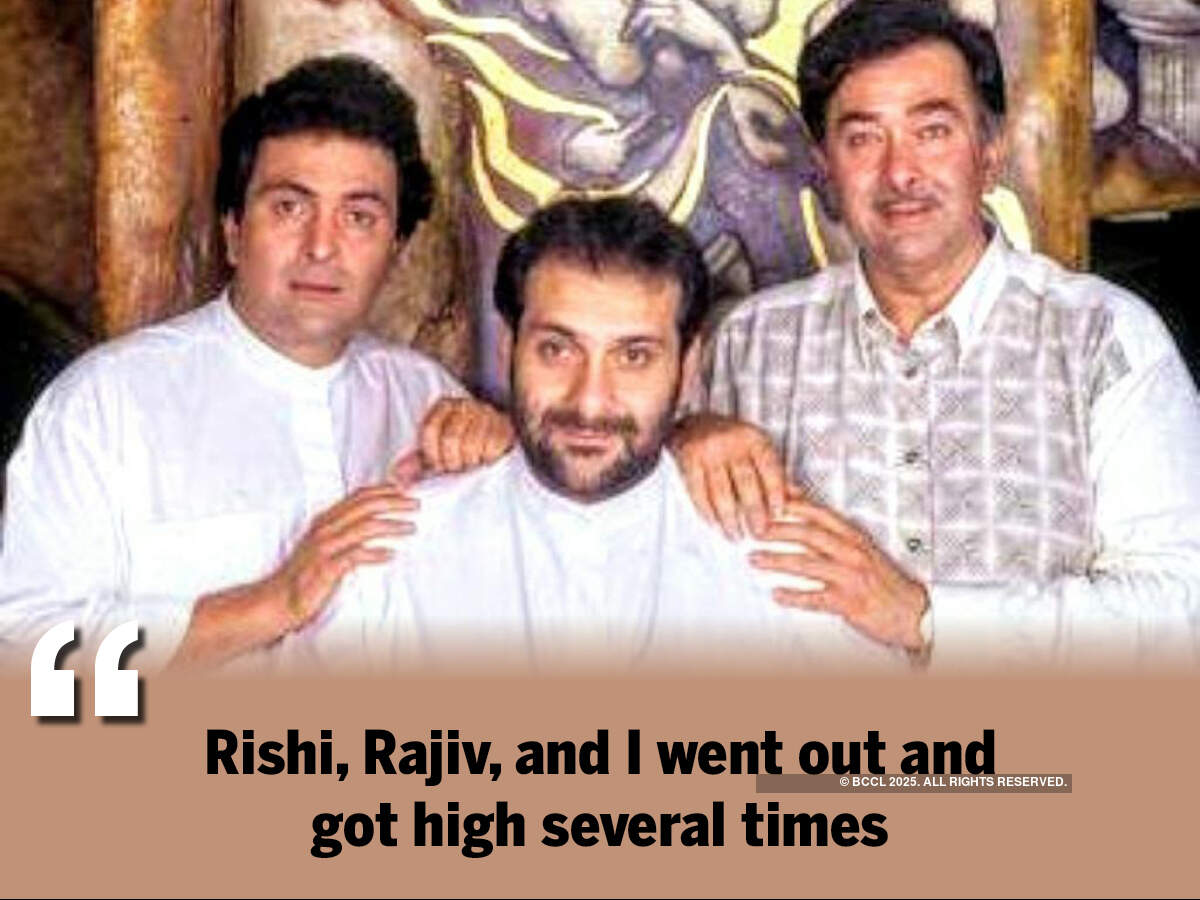 Reema is the only sibling I have now and she is a good support system. She is immensely concerned about me all the time. She fires the hell out of me though when I do things that I shouldn't be doing. Bas ab bhagwan se sirf yahi kehna hai ki agar humse koi galti ho gayi hai toh maaf karde (I just pray to God to forgive us for any mistake that we might have inadvertently committed).