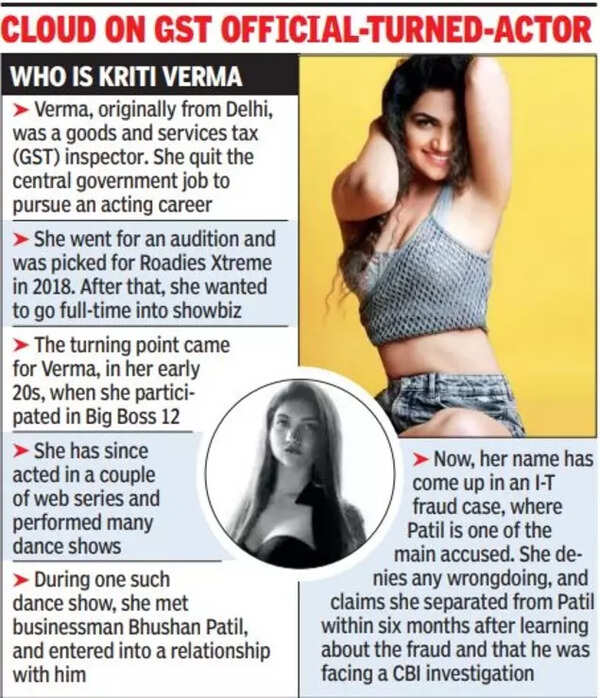 MUMBAI: GST inspector-turned-actor Kriti Verma recorded her statement with the Enforcement Directorate in a money laundering case where an income-tax official had allegedly siphoned off Rs 264 crore by using the login credentials of his seniors.
Businessman Bhushan Patil, who was in a relationship with Verma, a former Big Boss and Roadies Xtreme participant, is a key accused. ED says much of the illegal funds was channelled to Patil's account; a part was used to buy properties, including some in Verma's name.
Separated from accused after learning of TDS fraud: Actor
Actor Kriti Verma, who is in her early twenties, denies the ED's allegation that proceeds of an I-T TDS refund racket were diverted to her account. She said one of the key accused in the case, Bhushan Patil, had transferred around Rs 1 crore into her account as payment for a dance performance before they had a relatioonship.
A person close to Verma said she herself is a victim and denied her role in the case. As a "responsible citizen", Verma helped the agencies by providing relevant information against the accused, the person added.
Verma says she entered into a relationship with Patil after meeting him during a dance show in Panvel at the end of 2020, after the offence was committed. She claims she separated within six months after learning about the fraud.
The ED has provisionally attached their assets, including properties of some others, in the case.
The fraud is said to have been "orchestrated" by I-T inspector Tanaji Mandal Adhikari along with Patil. Adhikari, who was then senior tax assistant, gained the confidence of senior officials and found out their login credentials and passwords. He used them to clear actual and bogus tax deducted at source (TDS) refund claims to an account of Patil's company. From November 2019 to November 2020, Adhikari had cleared 12 fraudulent TDS refunds amounting Rs 264 crore.
Adhikari was even promoted as I-T inspector in February 2021. He was finally exposed when a bank to which the cheated amount was transferred from a government account raised a red flag. In January 2022, the CBI registered a cheating case, naming Adhikari, Patil and four unknown persons. Verma was not named in the CBI FIR.
Subsequently, the ED registered a money laundering case based on the FIR. Last month, it had attached 32 properties in Maharashtra and Karnataka, collectively worth Rs 70 crore in the case. The attached properties were in the form of land at Lonavla, Khandala, Karjat, Pune and Udupi areas, and flats at Panvel and Mumbai. Three luxury cars (BMW X7, Mercedes GLS400d, Audi Q7) were among them. These properties were in the name of Patil, Rajesh Shetty, Sarika Shetty, Verma and others.
Earlier, the ED had frozen bank accounts of various entities containing Rs 96 crore in the case. Till now, the ED has attached/frozen assets and bank balance collectively worth Rs 166 crore in the case.
Explaining Adhikari's modus operandi, an official said one of the companies now named as accused in the case had submitted genuine TDS claims in 2019 for years 2007-08 and 2008-09. The refund claim amounts were Rs 6.5 lakh and Rs 9.5 lakh, respectively. Adhikari manipulated the IT system and added Patil's account along with the bank account provided by the actual company. He increased the TDS amount claimed, and refunded the increased amount into the account of Patil's company. Afterwards, Adhikari removed Patil's company's account number from the system to cover the money trail.