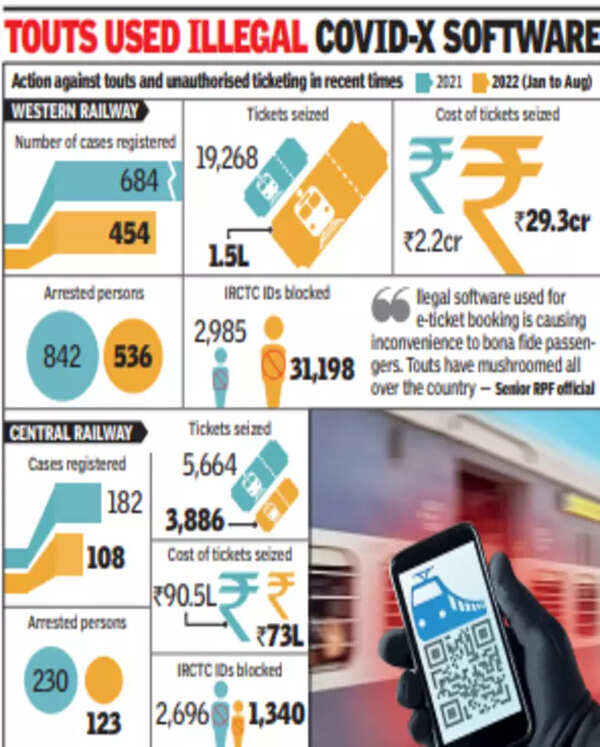 MUMBAI: Touts involved in a multi-crore railway ticket booking racket seem to have drawn inspiration from the pandemic. A software called 'Covid-X' was being used to book tatkal tickets illegally, within seconds, by bypassing security clearances on the IRCTC website. In an operation spanning four months, WR's Railway Protection Force (RPF) nabbed six men from three states and recovered tickets and properties worth Rs 28 crore.
The accused, two of whom are from Mumbai, operated in a corporate-like hierarchy comprising super admins, lead sellers and users.
Using illegal software, touts can pre-fill booking details. The various software are completely automated and bypass not only security clearances like 'Captcha' but also the process of OTP submission on the IRCTC website.
A technical investigation first led the RPF to a 35-year-old man from Rajkot, Manan Waghela, in May. Employed in a local store, Waghela moonlighted as a booking agent. The 'Covid-X' software was found on his laptop. Waghela told officers that he had purchased the software from Mumbai-based Kanhaiya Giri over the Telegram app. The RPF team picked up Giri (24) who worked in Mumbai as a loan agent. Giri was a "lead seller" of the software.
Once an illegal software is developed, it goes to a super admin. It is then sold to admins, further to a group of lead sellers, then to a bigger group of sub-sellers and at the lowest level to thousands of users who are involved in actual ticket booking. "The software is sold for anywhere between Rs 2,000 and Rs 3,500 online," said inspector Amarjyoti Chetia, Rajkot RPF.
To book a ticket on the IRCTC website, one needs a user ID. Touts have managed to access "disposable" mobile numbers which essentially means they can be used only once to generate a one-time password. A fake user ID is created using disposable mobile numbers and email addresses. There is a limit on Internet Protocols (IP) for ticket booking on the IRCTC website but touts have been breaching that too.
The RPF team managed to nab a "software admin", Abhishek Sharma (22), an HSC passout who works in a cloth store at Vapi, Gujarat. In August, the RPF team nabbed three men who used to create fake user IDs for booking of tickets-Aman Sharma from Mumbai, Virendra Gupta from Gujarat and Abhishek Tiwari from UP. Aman (22) works with an internet provider and is a school dropout, Gupta (30) works in a mobile recharge shop in Valsad while Tiwari (24) is a YouTuber and PAN card agent. "The accused would communicate through virtual international numbers and fake identities. Besides 'Covid-X', other software such as 'Anmsback' and 'Black Tiger' were also being sold by some of them," said inspector general P C Sinha.