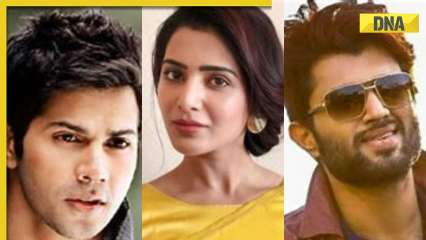 Samantha Ruth Prabhu who is currently waiting for the release of her upcoming film Shaakuntalam, recently in an interview talked about her other upcoming projects and her experience of working with Varun Dhawan and Vijay Deverkonda. The actress heaped praise on both of her co-stars.

In a recent interview with Pinkvilla, Samantha Ruth Prabhu talked about her upcoming projects Kushi and the Indian installment of Citadel, and said, "The two are starkly different from one another, It's like everyday phenomenal. And that's how I feel being on both sets every single day. There's never a dull day."

The actress talked about working on the projects and said, "Every day it's like 'today's scene was amazing' and I think that's what keeps me going. That's what makes me forget about the pain and the fatigue of what I'm going through because it is so rewarding, the feeling of just nailing a shot, nailing a scene. And it makes my day."
Samantha called Varun Dhawan and Vijay Deverakonda incredible co-stars and said, "They're both called VD it's weird! I'm working with two VDs. But they're both amazing co-stars for sure. Both are very giving co-stars. I definitely draw from my co-stars. When they put up a great performance it just makes me want to do my best and it pushes me to my limits so I think they are both incredible co-stars."

Meanwhile, on the work front, Samantha Ruth Prabhu's movie Shaakuntalam is directed by Gunasekhar and is set to hit the theatres on April 14, 2023. Other than this, recently, the actress shared the poster of her upcoming film Kushi starring Vijay Deverkonda, and announced the new release date of the film. Helmed by Shiva Nirvana, the romantic drama was earlier scheduled to release on December 23 last year but will now be released on September 1, 2023. The actress will also be seen in the Indian installment of the American spy-thriller Citadel which also stars Varun Dhawan.