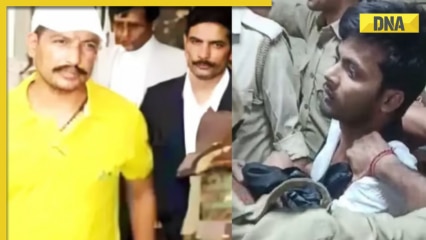 Sanjeev Jeeva murder: Shooter Vijay had met slain gangster Atiq Ahmed's friend Ashraf in Nepal.
Gangster Sanjeev Jeeva's alleged killer Vijay went to Nepal days before the audacious court murder. He reportedly told the police that he had been in touch with a mafia. The man had shown him the photograph of Jeeva and promised to pay Rs 20 lakh for his murder. He gave him Rs 5000 and a revolver to shoot him dead.

Shooter Vijay had met slain gangster Atiq Ahmed's friend Ashraf in Nepal. According to Amar Ujala, Ashraf told Vijay to murder Jeeva for Rs 20 lakh. He wanted to eliminate Jeeva as he would reportedly harass Ateef who was lodged in Lucknow jail. Ashraf's henchmen help Vijay with logistics. The police are verifying his version of the crime. 
The police, meanwhile, have suspended four head constables and two constables for carelessness. These people were deployed at the gates of the court and were responsible for its security.
Had Sanjiv Maheshwari alias Jeeva been produced in the court in a video conferencing format, he would have been alive.

Maheshwari was 50 years old. The assailant came into the court dressed as a lawyer and pumped in him six bullets from a revolver. 

He is considered very close to Mukhtar Ansari.
This came weeks after mafia don Atiq Ahmed and his brother Ashraf were murdered outside a hospital on camera. The assailants had come dressed as lawyers.

Jeeva was shot dead from behind. The lawyers present there caught the attacker. Two policemen, a toddler and her mother have also been injured.

Sanjeev Jeeva's name had cropped up in the Krishnanand Rai murder case. He was born in Shamli district of UP. He entered the criminal world in the 1990s.

He was sentenced to life in the murder of Bramha Dutt Dwivedi in 1997.

He was involved in extortion and land grabbing. His wife Payal contested the 2017 UP polls on an RJD ticket but lost.