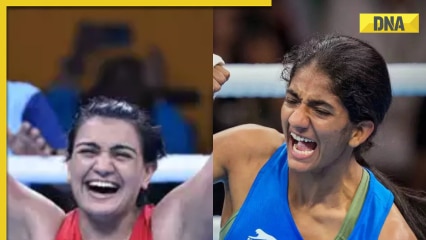 Enjoying a dream run at the 2023 Women's World Boxing Championship, host India ended up bagging two gold medals, all thanks to star wrestlers Saweety Boora and Nitu Ghanghas who ended up delivering a stellar performance at the event.

Saweety Boora bagged a gold medal in the 81-kg category, making it the second gold for India at the World Women's Boxing Championship, after Nitu Ghanghas clinched a gold medal earlier in the day in the 49-kg category.

In the 81-kg category, Saweety Boora ended up bagging the gold medals by defeating China's Wang Lina in the summit clash at Delhi's Indira Gandhi arena. Meanwhile, Nitu defeated Lutsaikhan Altantsetseg of Mongolia with a 5-0 scoreline to clinch her first World Championships medal.

The gold medals for Saweety Boora came brought her redemption as she missed out on the medal in the 2014 Women's World Championship in Canada. Meanwhile, Nitu maintained her red-hot formed and played on her attacking strategy, adding another gold medal to India's tally during the championship.

After the match, Saweety said, "I am thrilled after fulfilling my dream of becoming the World Champion. The bout went well and I was able to execute our planning perfectly. My performances in the tournament got better as the bouts progressed with my body also responding well. I want to thank the fans for their constant love and support."
The gold medal in the Women's World Boxing Championship brought both the women pugilists a hefty cash prize of Rs 82.7 lakh ($100,000) after being crowned as the world champions. It is expected that they will be awarded by the state and central government as well.

Following Nitu and Saweety's historic triumphs, India's quest for two more gold medals will continue on Sunday when the reigning World Champion Nikhat Zareen and Tokyo Olympics bronze medallist Lovlina Borgohain take to the ring for their respective finals bout.
(With IANS inputs)

READ | Women's Boxing Championships: Nitu Ghanghas becomes world champion with 5-0 win over Lutsaikhan Altantsetseg