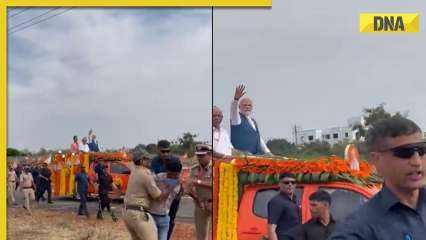 Security breach during PM Modi's roadshow in Karnataka, video surfaces (photo: ANI)
A security breach was reported during Prime Minister Narendra Modi's election road show in Davanagere, Karnataka on Saturday. A man tried to jump the barricade and run towards PM Modi's convoy. However, he was detained by police officials near the convoy. A video of the incident has surfaced on the internet.

This was the second attempted security breach after a similar incident in the BJP-ruled state's Hubballi district.

WATCH  Karnataka: Security breach during PM Modi's roadshow in Davanagere, earlier today, when a man tried to run towards his convoy. He was later detained by police.

(Visuals confirmed by police) pic.twitter.com/nibVxzgekz
— ANI (@ANI) March 25, 2023
Assembly polls are due in Karnataka by May 2023. Earlier today, PM Modi urged the people of the state to give the party a full majority for a stable government.

Stressing that fast-paced development was the need of the hour, he urged the people of Karnataka to help bring the State out of the "politics of manipulation". The BJP wanted to make the State a driving force of developed India, while the Congress looked at it as "an ATM that fills the treasury of its leaders", he alleged.

"Karnataka has seen a long period of opportunistic and selfish coalition governments. Karnataka has faced losses due to such governments. So, for fast-paced development of Karnataka, BJP's full majority, and stable government is needed," PM Modi said.
Speaking at the rally held to mark the culmination of the BJP's statewide 'Vijay Sankalpa Yatre' ahead of the Assembly polls, Modi asked the people if they wanted him to serve them and Karnataka. "If I have to serve you and do something for you, I will need BJP's strong government in Karnataka, and you will have to make BJP win and bring in its strong government," he asserted.

(With inputs from PTI)
READ | 'Moot question remains who invested Rs 20,000 crore in Adani shell firms?': Rahul Gandhi