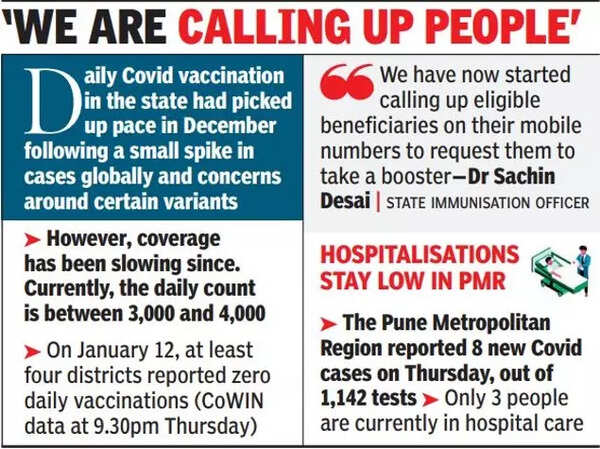 PUNE: Covid-19 vaccination, which had picked up pace in December, has now fallen to worryingly low levels in quite a few districts of Maharashtra, state officials said on Thursday.
Some main reasons for the drop in coverage included empty reserves of Covishield, low Covaxin coverage (many vials of the vaccine expired on December 31) and overall laxity among people.
There was some interest in boosters when cases spiked globally a few weeks ago, but that has since waned, one official said.
"We have now started calling up eligible beneficiaries on their mobile numbers to request them to take a booster. We have adequate stock of Covaxin. However, we still haven't receieved Covishield doses from the Centre, despite constant follow-ups," said state immunization officer Dr Sachin Desai.
Daily vaccination count in the state had touched 10,000 doses shortly after the spike in global caseload and the intensified government surveillance that followed from December 22.
However, numbers started declining significantly from December 31 and even came to a stop in some districts.
Currently, the daily count is between 3,000 and 4,000 in the state. On January 11, it rose slightly to 4,948 after dipping to 1,185 doses on January 8. On January 12, Maharashtra reported 3,178 vaccinations.
On Thursday, according to CoWIN data, 506 people were vaccinated in Pune district. But districts of Ratnagiri, Sangli, Sindhudurg reported zero daily vaccinations. In Buldhana, the count was down to seven.
The state gave out a total of 1.3 lakh doses in December last year, just 23,000 more doses than November, when 1.1 lakh people took a shot, mainly the booster.