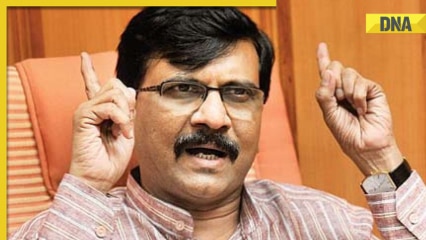 Sanjay Raut is the member of the Uddhav Thackeray faction of the Shiv Sena (File)
In a major escalation of the ongoing political drama in Maharashtra, Shiv Sena (Uddhav Thackeray) leader Sanjay Raut claimed threat to life from Shrikant Shinde, the son of Chief Minister Eknath Shinde. In a letter to Deputy CM Devendra Fadnavis, Raut alleged that the politician had given 'supari' (contract) to one Raja Thakur, a criminal in Thane. Fadnavis brushed aside the allegations as thoughtless but passed it to Mumbai's law enforcement authorities.

In the letter, Raut wrote that he had received confirmed information that Thane-based Raja Thakur received a 'supari' to murder him.

"Lok Sabha member Shrikant Shinde (Eknath Shinde's son) has given a 'supari' (contract) to kill me to a Thane-based criminal Raja Thakur. I have confirmed information regarding the same. I am informing you as a responsible citizen," he wrote.

Shinde is the member of Lok Sabha from Maharashtra's Kalyan.

Aaditya Thackeray, Uddhav Thackeray's son, threw his weight behind Raut and said the complaint should be taken seriously. He claimed an MLA from the Eknath Shinde camp opened fire in Mumbai's Mahim area but no action was taken against him. "These traitor MLAs (from Shinde camp) are not being controlled at all," he said.

Sanjay Shirsath, an MLA from the Shinde camp, said Raut was doing what he called a cheap stunt to gain sympathy. He, however, said a thorough probe should be conducted into the allegations. He said Shinde would not do such a thing.
Fadnavis, responding to the allegations, said the Rajya Sabha MP was trying to seek sympathy. He also touched upon Raut's allegations that a deal worth Rs 2000 crore was struck in order to pass the Shiv Sena name and the poll symbol to the Eknath Shinde camp.

"Earlier, we used to give answers to his allegations but now he makes mindless allegations and the question remains what answer should be given to him," said the deputy chief minister.

The Election Commission has authorised the Eknath Shinde camp to use the Bow and Arrow symbol and the Shiv Sena name, months after the Maharashtra CM spearheaded a rebellion against the Thackeray clan.
The Uddhav Thackeray group has moved the Supreme Court against the decision.

With inputs from PTI