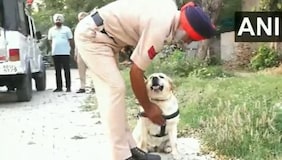 Today (29 May) marks the first death anniversary of Punjabi singer and politician Sidhu Moose Wala. It was on this day last year that the Congress leader was shot dead in Punjab's Mansa district, just 10 kilometres away from his native village of Moosa. A year on, the probe into his murder is still on.
While the Punjab Police has arrested dozens of accused, Moose Wala's family believes the masterminds behind the popular singer's murder are yet to be brought to justice.
What happened on 29 May 2022 and where does the case stand a year later? We explain.
Sidhu Moose Wala murdered
Shubhdeep Singh Sidhu, popularly known as Sidhu Moose Wala, was travelling with his friend and cousin in an SUV to Jawahar Ke village in Mansa on 29 May 2022 when six shooters in two cars sprayed him with bullets.
The 28-year-old Punjabi rapper's father, Balkaur Singh, said in his police complaint that he was following his son in another vehicle. Singh then noticed a Corrola car with four people inside trailing Moose Wala's car.
As per the FIR, a second car – a Bolero – stopped in front of the singer's vehicle when he took a turn towards Barnala village, reported Outlook.
The shooters in both vehicles rained bullets on Moose Wala and later fled.
Moose Wala was murdered a day after the Punjab government reduced his security cover.
After the killing, Canada-based gangster Goldy Brar claimed responsibility for the murder. Brar is a member of the Lawrence Bishnoi gang, which was thrown into spotlight following Moose Wala's death.
The Punjab Police identified the six gunmen as Priyavrat Fauji, Kashish, Ankit Sersa, Deepak Mundi, Manpreet Singh and Jagrup Singh Roopa.
In July 2022, Roopa and Manpreet were killed in an encounter in Amritsar by the police.
All these six shooters were part of two modules allegedly involved in the singer's killing.
Where is the case now?
The Punjab Police has filed two chargesheets so far against 31 accused in the case, as per The Tribune report.
The state police special investigation team (SIT) filed a 1,850-page chargesheet in the court of the Chief Judicial Magistrate in Mansa on 26 August last year against 24 accused, including notorious gangsters Bishnoi, Brar and Jaggu Bhagwanpuria.
In the second chargesheet filed last December, seven more accused including gangster Deepak Mundi – who was allegedly part of shooters' 'Haryana module' – were named.
The chargesheet was also filed against Kapil Pandit, Rajinder Joker, Manpreet Singh alias Mani Rayya, Mandeep Singh alias Toofan, Bittu Singh and Jagtar Singh, reported Hindustan Times (HT).
As per the chargesheet, Toofan and Rayya were initially tasked with killing Moose Wala. "Even, they conducted reece of the singer along with two other accused Kapil Pandit and Sachin Thapan in February but failed to kill despite repeated attempts," it said.
The accused Brar, Thapan, Anmol Bishnoi and Lipin Nehra are currently abroad. The remaining 23 accused are either in police or judicial custody.
Brar has been added to Canada's list of the top 25 most wanted fugitives.
In late February this year, gangsters Toofan and Manmohan Singh alias Mohna were killed in a clash among the inmates in Goindwal Sahib Central Jail in Punjab's Tarn Taran district.
A video of Lawrence Bishnoi gang members Sachin Bhiwani, Ankit Sersa and others celebrating the killing of Toofan and Manmohan, members of Jaggu Bhagwanpuria gang, inside the jail had gone viral on social media.
Meanwhile, two popular Punjabi singers Mankirt Aulakh and Babbu Maan have also been interrogated, reported The Tribune. 
ALSO READ: Why Punjabi singer-politician Sidhu Moose Wala was such a polarising figure
Parents' quest for justice
Moose Wala's parents have alleged that the arrested accused were just "pawns", and that there are "big players" from the Punjabi music industry involved in their son's killing, as per a News18 report.
"The arrests have been a cover-up. They have failed to unravel the whole conspiracy. My son was killed in the prime of his youth. The police claim to have arrested many and killed two shooters in an encounter also. But they have been unable to answer the questions we have raised," Charan Kaur was quoted as saying by News18.
Speaking to The Tribune, Moose Wala's uncle Chamkaur Singh said, "Shooters and others who provided logistical support have been arrested and a chargesheet has also been presented in the court, but the main conspirators have not been exposed yet. We want the government to expose the masterminds who gave money to others to execute this plan."
"We have given the names of the suspects, who we think are involved in the case, to the SIT, but no action has been taken against them yet. So, we will continue to raise our voice demanding justice," he added.
The Punjab Police has limited the probe to gangsters so far. "Unless there is tangible evidence to suggest that some singers are involved, as alleged by the parents, we cannot move in that direction," an officer told News18.
Earlier in March, the singer's parents staged a protest outside the Punjab Assembly complex seeking justice for their slain son. Balkaur Singh told reporters that the masterminds behind his son's killing continue to be at large. Demanding a Central Bureau of Investigation (CBI) probe in the case, Moose Wala's father alleged that "nothing concrete" has been done by the investigation agencies.
With inputs from agencies
Read all the Latest News, Trending News, Cricket News, Bollywood News,
India News and Entertainment News here. Follow us on Facebook, Twitter and Instagram.