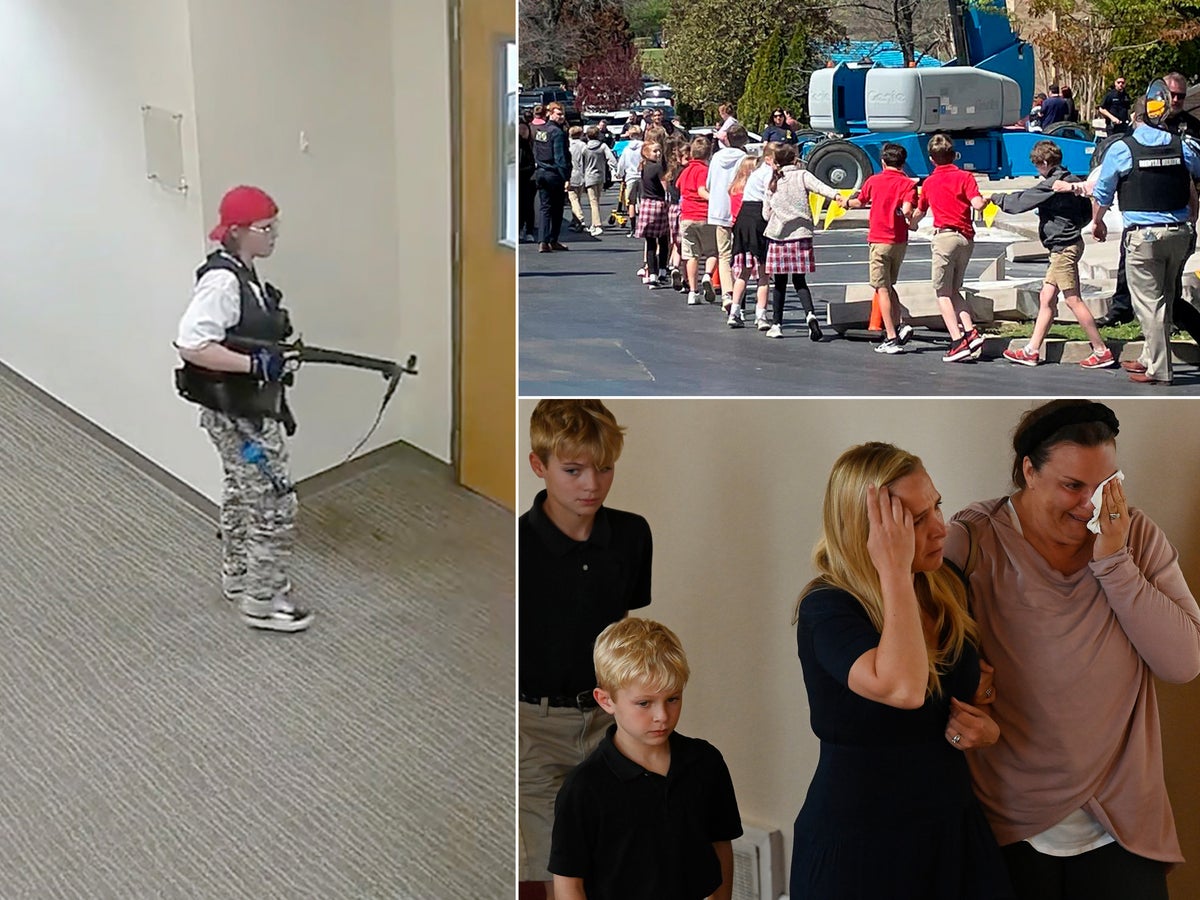 Three nine-year-old students and three staff members died after a shooting at a private Christian grade school in Nashville, Tennessee, on Monday.
The suspect, 28-year-old Audrey Hale, is also dead after being confronted and killed by police at The Covenant School in the Green Hills suburb of the city.
The shooting comes as the US is recovering from several recent gun violence incidents at schools, including the mass shooting at an elementary school in Uvalde, Texas last year, a first-grade student shooting his teacher in Virginia, and a shooting in Denver, Colorado where two school administrators were wounded.
Here's everything we know so far:
The shooting
Police were called shortly after 10am CT on Monday 27 March to an active shooter situation at the school, which is connected to a church.
Hale arrived on the school campus in his Honda Fit, with security footage capturing the vehicle driving through the parking lot to the building.
Police said Hale was able to then forcibly enter the school door on the first floor of Covenant, where shots were fired, before moving to an upper level.
The first call to 911 about shots being fired came in at 10.13am, police said.
When officers rushed to the campus, the shooter opened fire on arriving police cars from a window on the second floor.
Officers entered the building and began clearing the building, police said.
While clearing the building, officers heard shots fired on the second level and moved to the second floor common area where they encountered Hale, police said.
Two police officers opened fire, fatally shooting Hale.
Monday's tragedy unfolded over roughly 14 minutes.
Late on Monday night, police released around two minutes of edited surveillance video showing the killer's car driving up to the school from multiple angles, including one in which children can be seen playing on swings in the background. Police have also released surveillance and body camera
Next, an interior view shows the glass doors to the school being shot out and the shooter ducking through one of the shattered doors.
More footage from inside shows the shooter walking through a school corridor holding a gun with a long barrel and walking into a room labelled "church office", then coming back out.
In the final part of the footage, the shooter can be seen walking down another long corridor with the gun drawn.
Police said that Hale was armed with three guns including two assault-type weapons and one handgun. The guns were decorated with stickers, while one of the rifles had the word "hell" written on it.
At least two of the three weapons used in the shooting were believed to have been bought legally in Nashville.
The suspect
The suspect in the Nashville school shooting is 28-year-old Nashville native Audrey Elizabeth Hale.
Police have identified the suspected shooter by their name at birth; Hale reportedly was a transgender man who used he/him pronouns, though law enforcement officials initially described the suspect as a woman in the aftermath of the shooting. Police did not provide another name but on the suspect's social media accounts they refer to themselves as Aiden.
Hale, who officials say was a former student at Covenant Presbyterian Church School, was shot dead by police on an upper floor of the school.
Neighbours have revealed their shock at Monday's attack, describing Hale as a normal "quiet" person, from a family without any apparent interest in guns.
"If I had to imagine, Audrey's parents are probably just as shocked as everybody in the neighborhood is…It just doesn't seem real," Sean Brashears told The Daily Beast.
"There's nothing that would have led me to believe that she was capable of such a thing or that she or anybody in that family would have access to, much less ever used, a gun. They just don't seem like the family that, like, is around guns. They're not talking about going to a gun range or they're not going hunting."
Another neighbour Sandy Durham said: "I do know Audrey, I've known her since she was a baby. I had just gotten out of the shower when all of this started happening. I didn't really know anything more than that. Something was going on next door. It's just tragic for everybody. The sweet children that were hurt, killed, the adults. All of it."
Asked if there were any warning signs, she said: "Never. She was very sweet. I don't know what happened. It's very scary."
Another neighbour described Hale as coming from a "great family."
"This is a great family and it's a tragedy," they told NBC News.
Nashville police confirm seven dead including shooter after Christian school shooting
A LinkedIn account suggests Hale was an illustrator and graphic designer based in Nashville. The account says Hale was working for AH Illustrations and had previously been an illustrator at Nossi College of Art. It also mentions jobs with Grocery Shopper and as a cat sitter.
During a press conference on Tuesday, Nashville police chief John Drake said investigators discovered Hale, 28, had been treated for mental health challenges prior to the shooting.
"She was under care, doctor's care, for an emotional disorder," Nashville police chief John Drake said at a press conference on Tuesday.
The Hale family was aware the 28-year-old owned a weapon, but felt he should "not own weapons" and believed Hale had sold it.
In fact, Hale had secretly obtained seven guns legally from five stores in the Nashville area, according to police.
The 28-year-old appears to have meticulously planned the shooting, drawing diagrams of The Covenant School.
Police said on Tuesday they have reason to believe Hale had plans to attack family members and a mall.
Averianna Patton, an old friend of Hale's, tried to warn city officials something bad might happen, after the 28-year-old sent Ms Patton a series of worrying messages from the school parking lot describing suicidal thoughts and some bad event on the horizon, The Tennessean reports.
After spending about seven minutes on hold, Ms Patton was connected with a non-emergency dispatcher, who took her information and said they would send someone to follow up on her report.
That staff member didn't arrive to see Ms Patton until around 3.29pm that afternoon, according to the Tennessean, hours after the shooting was over.
"Something in me was like, 'No, you need to help. Do something,'" Ms Patton told the paper.
The Victims
Students Evelyn Dieckhaus, Hallie Scruggs, and William Kinney, all aged nine, Head of School Katherine Koonce, 60, Cynthia Peak, 61, and Mike Hill, 61, all died in the attack.
Koonce is listed on The Covenant School's website as "head of school" and was one of the adult victims of the shooting say police.
One parent was quoted as saying by the BBC that Koonce was a "saint".
"She did so much for those kids," a parent of a student said. "And now gave her life protecting them."
"She knew every single student by name," she said. "She did everything to help them when families couldn't afford things, it didn't matter. She found ways for them to stay."
Dr Kristy Mall, an educator, said on social media she attended graduate school with Koonce, calling the killing "senseless."
"We HAVE to revamp how we handle mental illness in TN [Tennesse]," she wrote on Twitter on 27 March.
Peak was a substitute teacher and Hill was a custodian, police said.
A woman who said she was Hill's daughter said on Facebook that her father "absolutely loved" working at the school.
"We would like to thank the Nashville community for all the continued thoughts and prayers," Hill's family said in a statement. "As we grieve and try to grasp any sense of understanding of why this happened, we continue to ask for support. We pray for the Covenant School and are so grateful that Michael was beloved by the faculty and students who filled him with joy for 14 years. He was a father of seven children (Marquita Oglesby, Brittany Hill, Shakita Dobbins, Ebony Smith, Joshua Smith, Tawana Smith Garner, Jeremy Smith) and 14 grandchildren. He liked to cook and spend time with family."
Nine-year-old Hallie Scruggs was the daughter of Chad Scruggs, a senior pastor at the Covenant Presbyterian Church, according to CBS News.
Meawhile, the sister of third-grade student Evelyn sobbed that "I don't want to be an only child" at a vigil on Monday.
In a video address on Tuesday night, Tennessee governor Bill Lee revealed that Tennessee first lady Maria Lee was close friends with Peak, and had plans to meet with her for dinner on Monday evening.
"What happened at Covenant School was a tragedy beyond comprehension," the governor said.
"Like many of you, I've experienced tragedy in my own life, and I've experienced the day after that tragedy. I woke up this morning with a very familiar feeling, and I recognize that today many Tennesseans are feeling the exact same way — the emptiness, the lack of understanding, the desperate desire for answers and the desperate need for hope."
The motive
The killer's motive remains unclear but Metro Nashville Police Chief John Drake said in a press conference on Monday that the mass shooting was "targeted".
Hale had drawn a detailed map of the school ground, including potential entry points, and carried out surveillance of the building prior to massacre, he said.
A "manifesto" was also found during a search of Hale's home.
"We have a manifesto, we have some writings we're going over that pertain to this day, the actual incident," said the police chief.
"We have a map drawn out of how this was all going to take place. There's right now a theory that we may be able to talk about later but it's not confirmed, and so we'll put that out as soon as we can."
He later told NBC News that investigators believe the shooter had "some resentment for having to go to that school".
At Hale's home, authorities seized a sawed-off shotgun, a second shotgun, and other evidence, police said.
Investigators have also spoken with Hale's father.
Police said the Covenant School – a private Christian elementary – was the only school targeted but the suspect had been considering targeting another location – which was not identified. Hale apparently decided not to because of the level of security around that location.
Chief Drake said Hale was not believed to have any previous criminal record.
The police chief added that while there was no known history of mental illness, it was a lead that was being investigated.
However, a friend said that Hale had spoken about feel suicidal in the past and had messaged her minutes before the shooting saying Hale wanted to die.
In the chilling final messages, Hale issued a dark warning to friend Averianna Patton via Instagram on Monday morning that "something bad is about to happen" just minutes before the shooting unfolded.
In the harrowing messages sent at 9.57am, Hale revealed plans to die by suicide telling Ms Patton "this is my last goodbye" and that she would soon be reading about it "on the news after I die".
"One day this will make more sense," Hale wrote.
"I've left behind more than enough evidence behind. But something bad is about to happen."
Just 16 minutes later – at 10.13am – law enforcement received the first 911 call reporting shots fired inside The Covenant School.
Ms Patton, a former middle school basketball teammate of Hale who shared the messages with NewsChannel5, responded telling her friend "you have so much more life to live".
Hale wrote back saying that "I just need to die" and that "my family doesn't know what I'm about to do".
Ms Patten told NewsChannel 5 that she contacted the Suicide Prevention Help Line at 10.08am to try to get her friend help.
"Audrey has shared with others that she had been suicidal in the past and I knew to take this serious," Ms Patton said.
The school
The shooting took place at The Covenant School – the Presbyterian institution has around 200 students from preschool to sixth grade.
The school was founded in 2001 as a ministry of Covenant Presbyterian Church, the school's website states.
It's located in Green Hills, southwest of downtown Nashville.
The school employs 33 teachers, according to the site, which includes the motto "Shepherding Hearts, Empowering Minds, Celebrating Childhood".
The reaction
During an event in Washington, DC on Monday, First Lady Jill Biden said, "we just learned about another shooting in Tennessee. A school shooting. And I am truly without words. Our children deserve better. And we stand, all of us, we stand with Nashville in prayer".
Nashville Mayor John Cooper tweeted, "in a tragic morning, Nashville joined the dreaded, long list of communities to experience a school shooting".
"My heart goes out to the families of the victims. Our entire city stands with you," he added. "As facts continue to emerge, I thank our first responders and medical professionals."
Jozen Reodica works in an office building in the area which went into lockdown as sirens blared.
"I thought I would just see this on TV," she told the AP. "And right now, it's real."
White House Press Secretary Karine Jean-Pierre told the press that President Joe Biden has been briefed on the shooting. He's calling on Congress to pass tougher gun laws.
"We want to express the President's appreciation for the first responders and prayers for all the families affected by this shooting," she said on Monday. "While we don't know yet all the details in this latest tragic shooting, we know that too often our schools and communities are being devastated by gun violence. Schools should be safe spaces for our kids to grow and learn and for our educators to teach."
"We must do more. And he wants Congress to act because enough is enough," she added.
"In his State of the Union, the president called on Congress to do something to stop the epidemic of gun violence, tearing families apart, tearing communities apart," she said. "How many more children have to be murdered before Republicans in Congress will step up and act to pass the assault weapons ban to close loopholes in our background check system or to require the safe storage of guns."
"We need to do something — once again the President calls on Congress to do something before another child is senselessly killed in a preventable act of gun violence," she added.
"What we're seeing today what we're seeing in schools and communities across this country is unacceptable," the press secretary said. "Our children should be able to go to school feeling safe, feeling protected. People should be able to go to grocery stores feeling safe. And what we saw today is devastating. It's heartbreaking for any American any parent across the country or any American, and so that's why this President has been very clear from day one, he is going to continue to fight for those communities."
Shannon Watts, the founder of Moms Demand Action, an anti-gun violence group, slammed Tennessee Governor Bill Lee.
"Tennessee @GovBillLee hasn't had time yet to tweet his thoughts and prayers for Covenant School, but when he does, remind him that this is exactly why police and citizens opposed the permitless carry bill he signed into law at a gun maker's factory in 2021," Ms Watts tweeted.
"SCHOOL SHOOTINGS ARE NOT ACTS OF NATURE," she added. "They are senseless, preventable acts of man enabled by weak gun laws and lawmakers. This doesn't have to be our new normal. Our children don't have to be sacrificed in exchange for gun industry profits. We can stop this."
Georgia Republican Congresswoman Marjorie Taylor Greenetweeted: "My prayers are with the victims and families at the Covenant School in Nashville. Another absolutely horrific needless tragedy. Children and school staff should always be protected the same way politicians, money, precious stones, and gold are protected, but even more so, by good guys with guns."
"Thank God for good guys with guns and thank God a good guy with a gun killed the evil mentally deranged shooter today," she added. "Joe Biden's gun-free school zones have endangered children at schools leaving them as innocent targets of sick horrible disturbed people ever since he worked as a Senator to pass this foolish law. What a fool. What a failure."
"Gun grabbers like Joe Biden and Democrats should give up their Secret Service protection and put themselves on the same level as our unprotected innocent precious children at school," she said. "School shootings should NEVER happen and will end immediately when our nation's children are defended the same way Joe Biden is by good guys with guns!!! End this now."
If you are experiencing feelings of distress and isolation, or are struggling to cope, the Samaritans offers support; you can speak to someone for free over the phone, in confidence, on 116 123 (UK and ROI), email jo@samaritans.org, or visit the Samaritans website to find details of your nearest branch.
If you are based in the USA, and you or someone you know needs mental health assistance right now, call National Suicide Prevention Helpline on 1-800-273-TALK (8255). The Helpline is a free, confidential crisis hotline that is available to everyone 24 hours a day, seven days a week.
If you are in another country, you can go to www.befrienders.org to find a helpline near you.