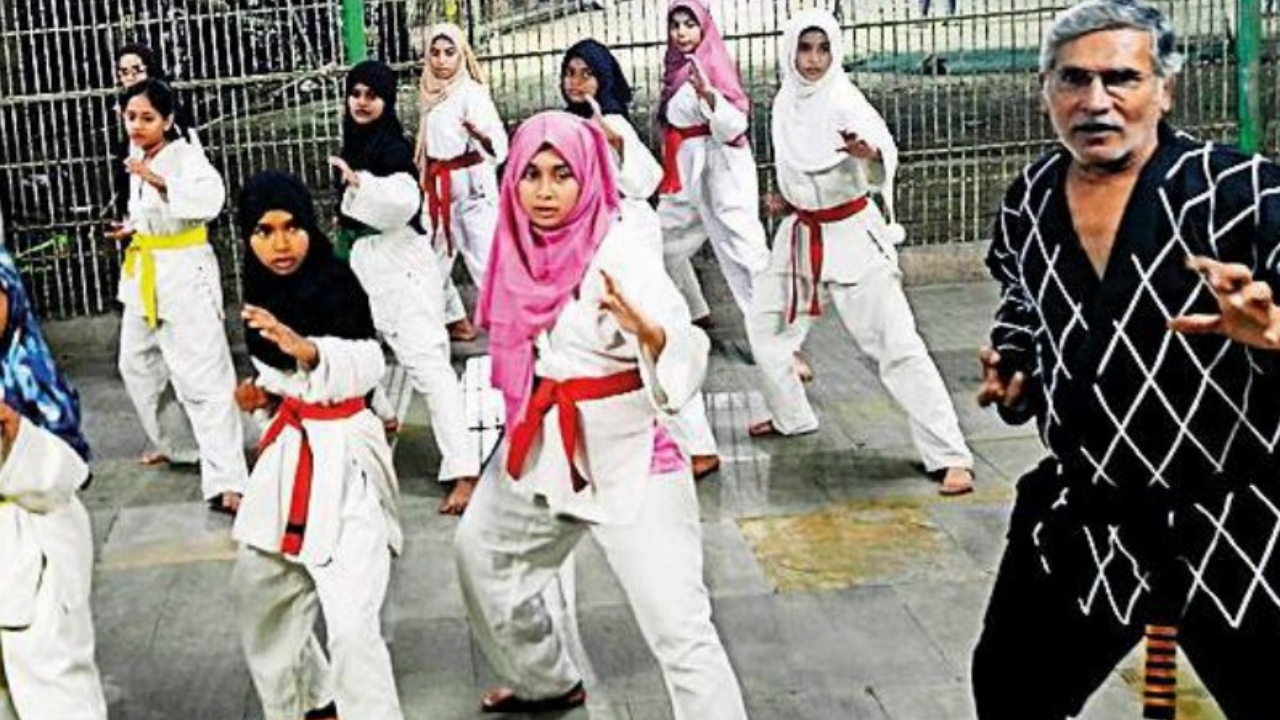 At a shaded recreational facility of the massive Millat Nagar in Andheri West, over two dozen teenagers train in various martial art forms regularly and vigorously. Around 40% of them are hijab-clad girls who actively undergo the workouts that their 'Sir', senior martial arts trainer Sardar Shaikh, makes them do.
Welcome to one of the two venues Shaikh runs martial arts training classes in the city-the other venue is the iconic Islam Gymkhana near Marine Lines station. What makes Shaikh's classes a bit novel and revolutionary is the enthusiastic participation of Muslim girls from middle class families.
Martial arts, including techniques like Taekwondo and Hapkido, are not very popular with girls and women in this neighbourhood. "Till a decade ago, I would see just a few Muslim girls in martial arts training centres. But, increasing awareness, education and the need to equip girls and women with self defence techniques have brought more girls from the community to these classes," said Shaikh, who began his martial arts classes at Nagpada in Central Mumbai over 40 years ago and moved to the suburb of Andheri in the 1990s.
The hijab-clad enthusiasts of martial arts have kicked down the taboos that prevented most members of the female gender in the community from joining such pursuits earlier. Now, with cases of sexual harassment of women hitting the headlines regularly, many parents encourage their daughters to join these courses which entail vigorous movements of legs, arms, head and shoulders.
The benefits are many and girls make the most of the opportunities they have. "Apart from helping me stay fit, my training here has also improved my performance at exams. My grade has improved as I am now more focused," said sixth grader Alifa Jafri. Her father Aijaz Jafri acknowledged the benefits of martial arts training easily as he too had trained in it earlier. "It brings in discipline, helps practitioners overcome hurdles," he said. "I persuaded both my daughter and son to join this class."
Most parents agree to send their daughters to this class as, unlike sports like football, badminton, wrestling and kabaddi, martial arts are practised in a uniform which covers legs and arms. Many Muslim parents would have been reluctant to allow their daughters to join this training had it required the trainees to wear shorts and sleeveless T-shirts. Shaikh referred to Muslim female martial arts practitioners in countries like Iran and Turkey who excel at it wearing the uniform that covers them properly. And there is no ban on wearing hijab which makes even orthodox parents permit their daughters to join these classes.
Trainer Shaikh said that some parents ask if training rigorously will make girls look muscular. "Many are concerned because a patriarchal and judgemental society wants women to look comely and delicate. For them, tough and stout looks are for the boys," said Shaikh. "They cite examples of women athletes who look muscular. These muscles are because of the steroids many athletes use. Martial arts training, on the contrary, shapes the body, controls high blood sugar and prevents heart attacks and brain strokes as blood circulation increases during the exercises trainers are put to," explained Shaikh.
Many of his students have excelled at state and national Taekwondo and Hapkido championships. Tenth grader Nabeela Hasan won a gold at a national championship held at Hyderabad in 2017. "It gives self-confidence and keeps us fit and active. Earlier, I would feel a bit lethargic and tired after hours at school and tuition. A session at a martial arts training centre and I feel rejuvenated," said Hasan.