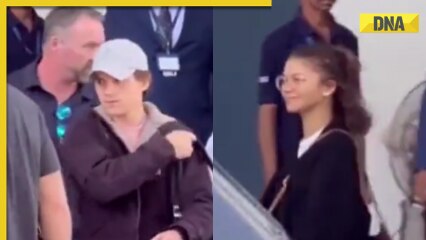 Tom Holland and Zendaya, Hollywood actors best known for appearing in the Marvel-Sony Spider-Man trilogy, arrived in Mumbai together on Friday afternoon. The two actors were clicked by paparazzi outside the Mumbai airport as they exited and got into their cars.

Videos and pictures posted by multiple paparazzi accounts on Friday afternoon show Tom and Zendaya arriving in Mumbai together. The video shows Tom, dressed in pink t-shirt and blue denims with a jacket and cap, followed by Zendaya, who is seen wearing a dark sweatshirt along with reading glasses. The two stars can be seen coming out of the airport and quickly getting inside their cars. So far, it has not been reported why the two are in India.


Fans were flummoxed at the real-life and screen couple's sudden visit to India. "This is so random. What are they doing here," asked one confused fan. Another wrote, "Are they on vacation here?" Many wondered if Tom and Zendaya were in India to be a part of some event. Many even wondered if they were here to scout locations for a rumoured destination wedding. "Tom and Zendaya arrived in Mumbai . Are they gonna do their destination wedding at Rajasthan," read one comment.
Tom and Zendaya, both 25, met on the sets of Spider-Man: No Way Home in 2015 and subsequently worked in tow more films in the series. They began dating in 2021 having known each other for a few years. The actors' relationship was actually made public after leaked pictures of them kissing in a car. In a subsequent interview, Tom said that the pictures and focus on their personal lives constituted breach of privacy.

Apart from playing Spider-Man in the MCU, Tom has worked in a number of other major films including Uncharted. Similarly, Zendaya has appeared in blockbusters like Dune.