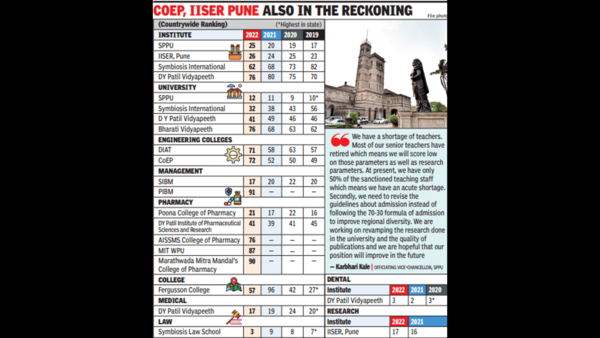 PUNE: Savitribai Phule Pune University slipped five spots to rank 25 in the list of top 100 institutes in the country declared by the ministry of education's seventh National Institutional Ranking Framework on Friday.
The university retained its number one position in
Maharashtra
in the university category even if it slipped one spot compared to last year and is now positioned 12th in the country.
While most institutes in the city have improved in the peer perception parameter which looks at how employers and academic peers rate the college, most scored poorly in the economically and socially challenged students parameter which looks at the tuition fee reimbursement provided by the institution to students.
Compared to the last year, many institutes slipped and some gained in the ranking list. While most of the aided institutes in the city seem to have performed worse than last year, private institutes like Symbiosis International and Dr D Y Patil Vidyapeeth seem to have done well for themselves.
While Pune university occupied the 37th position in the research category last year, this time, it has not found a mention in the list. It performed well in the peer perception parameters, but poorly in the regional diversity and ESCS parameters.
Sanjeev Sonawane, pro-vice-chancellor of the university, said as for the regional diversity parameter, since it was a state university, they have certain limitations on whom they can admit.
"We have to admit 70% of students who have passed from the SPPU's jurisdiction and in the remaining 30%, again 15% have to be from the state. Secondly, there has been some problem when it comes to data submitted in the ESCS category. SPPU gives fees concessions and has various schemes to include students from economically and socially disadvantaged categories. We are in the process of revamping our quality assurance cell and focus on improving all parameters," he said.
Symbiosis International climbed in both the overall category and university category from 68 and 38 last year to 62 and 32 this year respectively.
The recent rankings place it as the third best in law and 17th in management studies. These upward shifts have positioned Symbiosis International (Deemed University) as the number 1 university for management and law studies in Pune, said Vidya Yeravdekar, pro-chancellor of Symbiosis International.
"An education institute's biggest earning is its reputation amongst the stakeholders. It is also largely reflected in the trust employers and academic peers bestow upon it," she added.
R Raman, director of Symbiosis Institute of Business Management, said their institute jumped from 20th rank last year to 17th this year.
"We improved on all parameters, except in the regional diversity and women diversity category where there was a marginal decrease. We have been putting conscious effort to better our research and publications in quality journals. There is a marginal dip in the RD category, probably due to Covid-19 and its impact on restricted students' movement.We are the third best private management institute in the country," he added.
DY Patil Vidyapeeth jumped from 80 and 49 in the overall and university category last year to 76 and 41 this year. It has done well in medical (17th) and dental (3rd) categories. Vice chancellor N J Pawar said, "We want to focus on all five parameters and improve in research and professional practices. We would like to take peers who have done better as our role models."
Srinivas Hotha, dean of planning and communication at IISER, Pune, said they were one of the few small institutions at the top. "Our total score has improved since the previous year, although other organisations have done better. Most organisations ahead of us are much bigger, but we hope to persevere and improve," he added.