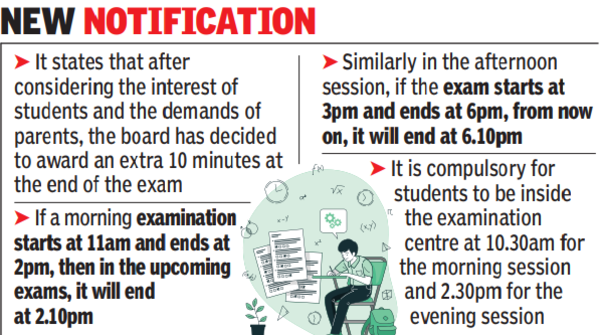 PUNE: Days after discontinuing the 10-minute question paper reading time, which was considered the main cause of copying in SSC and HSC exams, the state board has restored it. All other measures to curb malpractices will continue unchanged.
Students appearing for their board examinations this year can get a hang of the question paper pattern. The State Council of Education Research and Training (SCERT) has uploaded model questions and their answers on its official website.
Principals said it would help students practise and allay any fear of board exams. Unlike last year, students will not be given home centres this year.
Students can visit the official website of SCERT (https://maa.ac.in/).
Medha Sinnarkar, principal of Laxmanrao Apte Prashala, said there are hundreds of questions for each section whether it is multiple choice, small answer questions or long answer ones. This will help students practise well for the exam because the questions are exactly in the same pattern as the board exam.
"It will help them gain confidence because when they look at the final question paper, they would realize that they have practised well. They would know the time that should be given to solve each question depending on the total time available. Time management and practise will help them manage it better," she added.
Sinnarkar said that the people behind the question bank are subject experts, moderators, and chief moderators. Hence, students must go through the question bank.
Board announces 10 extra minutes for each exam
Students appearing for their SSC and HSC examination in the February-March 2023 session will get 10 minutes extra time at the end of each examination.
A notification to this effect was issued by the Maharashtra State Board of Secondary and Higher Secondary Education on Wednesday.
A few days ago, the state board had decided to stop the practice of distributing question papers among examinees 10 minutes before the beginning of the exam.
It stated tha stating that it was to prevent the incidents of question papers going viral on social media apps and the internet and creating rumours of a paper leak leading to fear and confusion among parents.