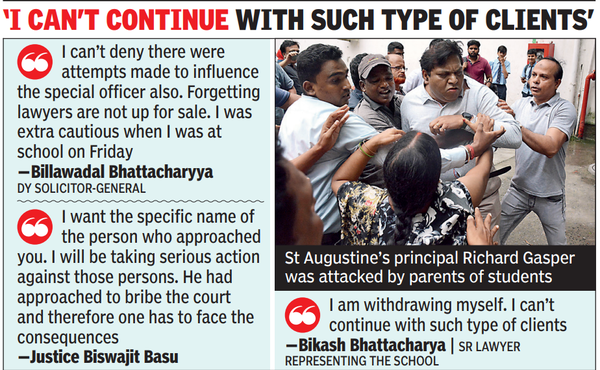 KOLKATA: The Calcutta High Court on Thursday asked the court-appointed special officer in the St Augustine's Day School case to submit in a sealed cover detailing the attempts to bribe him, along with the details of the person who did it, for the court to take criminal action. The officer had been appointed to determine the number of students of the
school
who have been pushed to uncertainty ahead of their board exams.
Deputy solicitor-general Billawadal Bhattacharyya told Justice Biswajit Basu that at 10pm last Thursday, the day before he was scheduled to go to the school to inspect their records, he received a call and "there were attempts made to influence him". The incident, Bhattacharya said, have made him "extra cautious" and he is reluctant even to divulge the name of the chartered account who has been tasked to check the school's financial records. When Justice Basu asked Bhattacharya, "Was it (the call) from the school," he replied, "Must be, my lord, must be."
Justice Basu said, "I want this to be submitted in a sealed cover before me. Including the names of those persons who approached the special officer. He had approached to bribe the court. Therefore, one has to face the consequences." The judge told senior lawyer Bikash Bhattacharya, who was initially representing the school virtually, "There was an attempt to bribe the special officer from the school's end." The judge added that, "I will be taking serious action against those persons." The lawyer then told the judge, "I am withdrawing myself (from this case). I do not want to continue for a second further. Please record and permit me to withdraw from this case. I cannot continue with such type of clients."
When the proceedings started, Justice Basu made some probing questions to the school principal Richard Gasper. The HC repeatedly asked why the school did not clearly convey to the parents that the school had lost its affiliation, and even despite the matter being heard in the HC, it still has a placard outside the school saying that it was affiliated. Justice Basu, who had asked all the school's board of trustees to be present in the court, clearly told them that since the board was also party to the decisions made by the school, they would be liable for its penal or civil consequences. The HC on Thursday dispensed the personal appearance of board members Esther Gasper, Nandini Ray, Benny Selwyn, Father Dominic Gomes, and Lawrence William Hartnett in the subsequent court proceedings but asked Richard Gasper and the school administrator Umesh Jha to remain present all days.
Justice Basu said, "When the special officer submits his report, I will order criminal proceedings against those persons. But I will also give those persons an opportunity to explain (their conduct)." Justice Basu asked the special officer for the number of board examinees for 2024. He directed the school and parents to provide all details to the special officer. Justice Basu said, "I wanted to bring all board-year students under the sweep of my order, but you (the school) are blocking it."
The court allowed the school to file an affidavit by September 26. It asked the parents, CISCE, state government and KMC to file replies by September 29. The next hearing is on October 4.