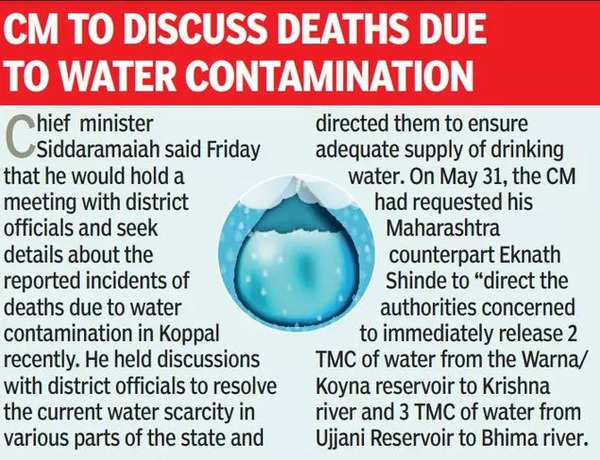 BENGALURU: With not enough pre-monsoon rain and a delay in the onset of monsoon, water crisis has intensified in several districts of the state, especially in North
Karnataka
and the Malnad districts.
In some villages, hundreds of families have reportedly moved temporarily to other places to cope with the water crisis. There are also reports of schools, lodges, restaurants being closed due to shortage of water.
TimesView
Despite the central and state governments launching projects worth crores of rupees, the situation over paucity of drinking water is only getting worse by the year, causing wideranging damages. Worse still, several villages in the state still lack access to safe drinking water. The recent deaths in Kalyana Karnataka region due to consumption of contaminated water are indicative of the scale of deprivations, that can also trigger various waterborne diseases. It's time for the authorities to address this crisis on a war-footing before it gets any worse.
Every year, the monsoon reaches the state by the first week of June, but according to the latest forecast, this time around, the state will witness onset of monsoon only after June 10.
The extended dry spell has depleted reservoirs and forced some municipalities to cut supplies in order to ensure water lasts until the arrival of monsoon showers.
According to reports, key reservoirs in the state were at 11% of their overall storage capacity on Friday, compared to 15% a year ago.
State governments have deployed water tankers to alleviate the problem in several villages, though people complain that the supply isn't enough. Women and children can be seen standing in queues for hours, waiting to collect water from the tankers or public taps.
Faced with acute water scarcity, protests have been staged and there are reports of even clashes breaking out between groups over water.
To make matters worse, the water level at Almatti Dam across Krishna River has depleted. As on date, the date has 3.3 tmcft of water. Officials say the reserves are enough to take care of drinking water requirements until only the second week of July.
Since Maharashtra too has not received enough pre-monsoon rain, there has been no inflow of water into Krishna from the neighbouring state.
Water-rich districts like Malnad too struggling
Surprisingly, people from the water-rich Malnad districts, especially Chikkamagaluru and Kodagu, are also grappling with water scarcity this summer. "All borewells have dried up and even submersible pumps have failed, as the ground water level has depleted," an official said.
As the backwaters are drying up fast, services of barges to help visitors reach the pilgrimage centre of Siganduru across Sharavathi river will have to be withdrawn temporarily.
Tourists who wish to visit Sigandur Chowdeshwari temple from Shivamogga now need to travel 130 km via Hosanagara. Moreover, vehicles will not be allowed to be ferried on the barges because the water level at the banks is too low for such operations, the official added.