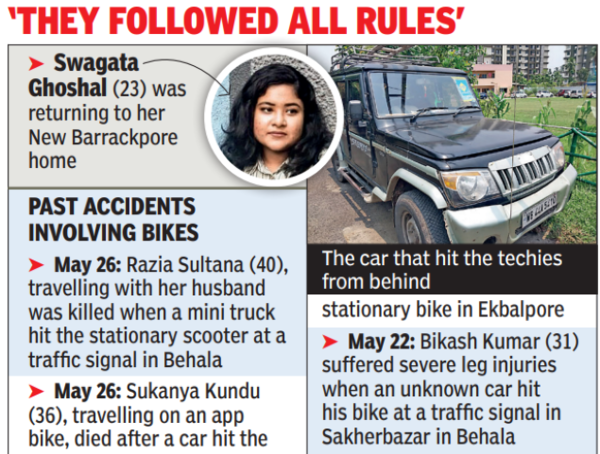 KOLKATA: Helmets firmly strapped, riding along the lane next to the left kerb at a moderate speed, two techies were following all traffic rules when a car hit them from behind, killing the 23-year-old female pillion rider and leaving the rider critically injured. Officers of Eco Park police station have arrested the driver, Md Nishan (55), and booked him under IPC sections 304A (death due to negligence), 279 (rash and negligent driving) and 338 (causing grievous hurt).
The incident that happened near Eco Park on New Town's main arterial road has brought into focus the vulnerability of riding a two-wheeler on city roads, even when one is following traffic rules. There have been several other fatal accidents involving two wheelers in the recent past in which riders were not at fault.
Swagata Ghoshal, who worked with a software development MNC in New Town and Sector V, was returning to her New Barrackpore home with her colleague Sudipta Banerjee (29) when the accident happened around 9.45pm.
Thevehicle that hit them was an SUV of a cable TV firm. The riders were flung on to the road and suffered multiple injuries. Upon being taken to the nearest private hospital, Ghosh was declared dead by an attending doctor and Banerjee was admitted with severe injuries. "Our child had maintained all precautions while riding. We need answers and want strict punishment for the car driver who killed her," said Sujit Ghoshal, the deceased's uncle. Swagata was the only daughter of her parents. Her father runs a confectionary at New Barrackpore and her mother was a homemaker. She joined the MNC four months ago.
The colleague, originally from Guwahati, stayed in a rented place in New Town. "The riders were not at fault. The accident happened due to negligence on part of the driver. He claimed he had fallen sick. We are are verifying his claims," a senior officer said.