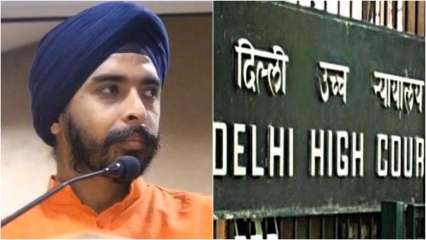 The Delhi High Court has sought a response from the Delhi Police on the Punjab Police's plea to quash the FIR in the alleged abduction case of Bharatiya Janata Party (BJP) leader Tajinder Pal Singh Bagga from his residence.

On a petition by Manpreet Singh, Superintendent of Police (Rural) of Sahibzada Ajit Singh Nagar in Punjab, the Delhi High Court issued notices to Delhi Police, Delhi Government and Tajinder Pal Singh Bagga and asked them to file their replies within four weeks. In fact, the Punjab Police has moved the Delhi HC seeking the custody of Bagga.

Read | Tajinder Bagga thanks Punjab and Haryana HC for staying his arrest, says 'law still works in the country'

The state police had challenged the FIR registered in the case and the order releasing Bagga. A bench of Justice Anu Malhotra heard the petition of Punjab Police. Justice Anu Malhotra of the Delhi High Court said that the respondents will file their reply within four weeks. She listed the matter for further hearing on July 26.

What is the case?
On May 6, the Punjab Police had arrested BJP leader Tajinder Pal Singh Bagga from his Janakpuri residence, but the Delhi Police brought him back from Haryana. The Delhi Police alleged that the Punjab police had not informed them about the arrest.
Following the arrest of Tajinder Bagga by the Punjab Police for allegedly making provocative statements, promoting enmity and criminal intimidation, the Delhi Police registered an FIR of alleged kidnapping against Punjab Police personnel late on May 6.
The Punjab Police, in its petition, had sought quashing of the FIR lodged at the Janakpuri police station. The petition also challenged the orders passed by the local court of Delhi on May 6, 2022. Under this, a search warrant was issued to produce Bagga and he was released from custody.

The petition said that the Punjab Police had made the arrest of Bagga, on the FIR registered under sections 153(a), 505, 505(2), 506 of the IPC, promoting enmity, unrest and ill-will between different religious groups. Significantly, Punjab Police says that five times notices were sent to Tajinder Bagga to join the investigation but he did not cooperate.