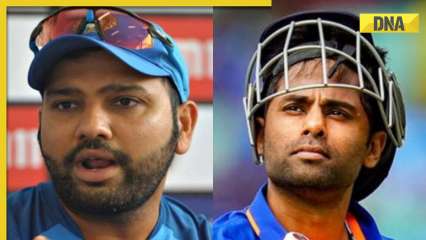 'They should not feel that…': Rohit Sharma's blunt take on Suryakumar Yadav's ODI future | Photo: PTI
After explosive batter Suryakumar Yadav scored a duck for the second game in a row, India skipper Rohit Sharma spoke openly about his future in the ODI team. While Sharma emphasised on Yadav's potential, he did not mince words in indicating that the breakout T20 star needs to start performing in ODIs soon in order to cement his spot.

Sharma asserted that India have a spot open in the middle-order due to Shreyas Iyer's injury so they "have to play him (Suryakumar)". He also mentioned that Yadav will get ample opportunity to redeem himself as players with potential like him "should not feel that" they were not "given enough chances".

"We don't know about (Shreyas) Iyer's return. At this time there is a spot available so we have to play him (Suryakumar). He has obviously shown a lot of potential with white ball and I have said it many times before (that) guys with potential will be given some run," Rohit said after India's 10-wicket loss to Australia.

"Of course, he knows that he needs to do while in a slightly longer format of the game as well. I think things are there in his mind as well. Like I said, guys with potential will have enough run where you know they should not feel that 'Okay, You know I wasn't given enough chances in that particular slot'," he added.

"Yes he got out in the last two games and the series before that as well, but he needs that consistent run, like back-to-back games, 7-8 or 10 games like that so that, you know, he feels more comfortable. Right now, he has got in the place when someone's been injured or someone's not available. As management we can look into the performance when you give that consistent run and then you feel that okay, the runs are not coming and (he's) not looking comfortable. Then, we will start thinking about it. Right now, we have not gone that route," he concluded.
Yadav got out in similar fashion in both the ODIs with pacer Mitchell Starc claiming his scalp with in-swingers. He has played 16 ODIs without scoring a half-century with a highest score of 34 not out against New Zealand.
READ | 'Kaam tamam ho gaya': Memes galore as Australia thrash Team India by 10 wickets in 2nd ODI

(With inputs from PTI)