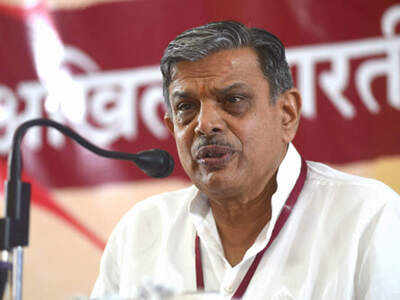 NEW DELHI: The Rashtriya Swayamsevak Sangh (RSS) on Saturday exhorted religious and other organisations to contribute to the nation in its fight against the pandemic and also cautioned the people of the country to be careful about the anti-India forces.
"It is also possible that destructive and anti-Bharat forces in the society can take advantage of these adverse circumstances to create an atmosphere of negativity and mistrust in the country. The countrymen, apart from their positive efforts to resolve the situation, should also be cautious of the conspiracies of these destructive forces," RSS joint general secretary (Sarkaryavah), Dattatreya Hosabale said in a statement.
The senior RSS functionary said that although the situation is critical, yet the strength of the society is also enormous.
"Our capability to meet the most trying crisis is well known across the world. It is our firm belief that we shall certainly overcome the situation by maintaining patience and keeping the morale up along with self-restraint discipline and mutual support," he added.
He said that due to the sudden worsening of the pandemic, people are facing a shortage of beds, oxygen and necessary medicines in the hospitals.
"In a large society like Bharat, the problems often gain gigantic proportions. Extensive efforts are being made to meet these challenges by the union and state governments and also local civic bodies. Putting their lives at stake, everyone in the medical field, security personnel and sanitation workers are discharging their responsibilities as they were doing before," Hosabale maintained.
He said the RSS exhorts swayamsevaks and humbly appeals to social, religious and service institutions and organisations, and also people from the field of commerce and industry to come forward with a spirit of urgency and service to resolve the current challenges and leave no stone unturned in meeting any kind of shortages.
He also requested all sections of the society including the media to contribute to maintaining an atmosphere of positivity, hope and trust in the society. "Those who are active on social media should play a positive role being more restraint and vigilant," Hosabale suggested.
FacebookTwitterLinkedinEMail