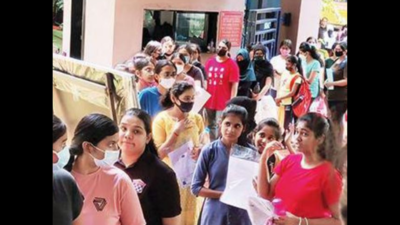 National Testing Agency gave students 20 minutes extra to complete the paper
MUMBAI: The much-awaited NEET-UG exam went smoothly for most students, with a few hiccups at some city centres. However, teachers from coaching institutes pointed out at least two questions as 'objectionable' so far in the paper. Over 1.8 lakh students from the state had registered for the test for admissions to MBBS, BDS, and other health science courses. Many students found the Physics section to be as difficult as last year, but Chemistry and Biology to be more challenging.
Brajesh Maheshwari, director of a leading coaching centre, said that there is an objection to one question each in Physics, Chemistry and Biology. "One question from the Electro-Chemistry topic in section B in Chemistry should have an answer of 1.05 which was printed as 10.5. Similarly, in section A in Physics, in the question of Modern Physics, the data was given wrong. In Biology, all the options were correct in the question of plant Entomology," he said.
Vinay Kumar from another coaching institute, said that many students were unable to complete the paper. "Time management was crucial in the exam. Scoring will be in line with last year. More students are expected to score about 600 marks compared to previous year, but fewer to get above 700," he said.
The National Testing Agency gave 20 minutes extra this year to complete the paper. However, at few city centres, the students complained of getting the paper 20 minutes late. Rajul Karmakar, a parent whose child had a centre in a school in Anushakti Nagar, said that the invigilators gave the paper 20 minutes late and the students were not even given extra time. At another centre, the invigilators wasted about 15 to 20 minutes in just taking signatures. They too were not compensated.
At several centres, the officials in-charge refused to allow students after the cut off time of 1.30pm.
It is disheartening to see students missing out on the exam, for which they prepared for two years, said a parent.
FOLLOW US ON SOCIAL MEDIA
FacebookTwitterInstagramKOO APPYOUTUBE