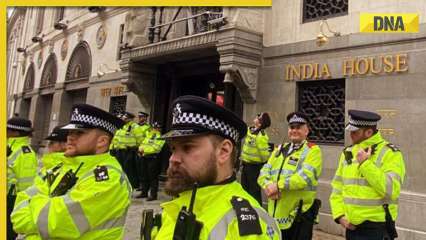 Another demonstration by pro-Khalistan supporters was held outside the Indian High Commission in London on Wednesday. After more than three hours of protesting, tensions rose as demonstrators threw bottles of water and smoke bombs at the high commission's front gate. Security at India's High Commission in London will be reviewed by the British government after "awful acts of violence" against the mission's workers, Foreign Secretary James Cleverly said on Wednesday.

Earlier this week, India summoned the most senior British diplomat in New Delhi to protest at the actions taken by "separatist and extremist elements" against the country's mission in London.

When "separatist and extremist elements" attacked India's embassy in London, India's top ambassador in New Delhi was called in for an emergency meeting earlier this week.

The Indian flag was apparently removed from the first-floor balcony of the diplomatic mission earlier by demonstrators carrying "Khalistan" banners in response to recent police action in the state of Punjab, India. Certain groups of people dream of a sovereign Sikh nation called Khalistan, although it does not exist.

The BBC reports that on Sunday, protesters gathered outside the high commission building and shattered many windows, prompting India to seek an explanation for the "total absence of the British security" in the area.
The Indian newspaper The Hindu said on Wednesday that there were at least a hundred police officers stationed on each side of the street outside the High Commission in London.

Also, READ: Khalistani protestors attack Indian High Commission in UK once again, India's response speaks volumes
Cleverly said that a police investigation into the acts of violence was underway and that the government will make the necessary modifications to safeguard the safety of the Indian mission's workers, just as it had for the rallies on Wednesday.

(With Reuters inputs)