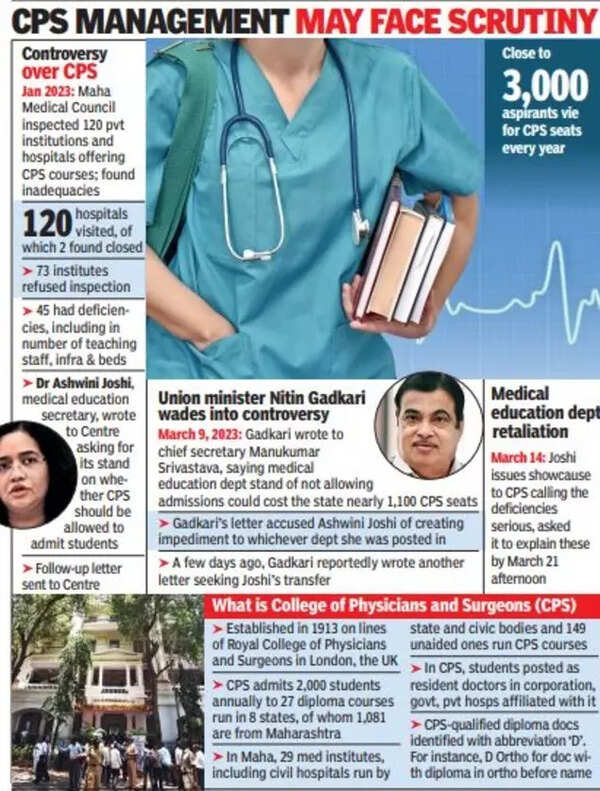 MUMBAI: Union minister
Nitin Gadkari
's letter seeking the transfer of medical education secretary Dr Ashwini Joshi, who exposed discrepancies in the functioning of the College of Physicians and Surgeons (CPS), has raised questions of conflict of interest.
Documents have emerged revealing that Gadkari's wife, Kanchan, is an adviser to a new association of CPS-affiliated institutes.
Since Gadkari wrote two letters to CM Eknath Shinde and chief secretary Manukumar Srivastava alleging Joshi was stalling admissions to nearly 1,100 CPS seats, questions have been raised about the highways minister's in-terest in medical education. "This revelation sparks concerns regarding the minister's impartiality in resolving the CPS controversy," said a senior official.
Gadkari's office said he did not wish to comment.
Medical education dept asks CPS to explain 'deficiencies'
In a letter on March 9 to CM Eknath Shinde and chief secretary Manukumar Srivastava, Union minister Nitin Gadkari had criticised medical education secretary Dr Ashwini Joshi for disrupting the smooth functioning of the medical education department (MED), besides stalling admission to nearly 1,100 CPS seats. CPS runs 2-year diploma and 3-year fellowship medical courses.
Office bearers of the Association of CPS Affiliated Institutes, a recent organisation formed by approximately 100 colleges that offer CPS courses, confirmed that Kanchan Gadkari, Nitin Gadkari's wife, was on their advisory board. Some said it was crystallised recently after the MED wrote to the Centre highlighting severe deficiencies in institutes running CPS courses.
"She is with us as an advisor. Just being the wife of a politician doesn't disqualify her. She has some position in her public life," said Dr Bakul Parekh, president of the association, adding that they seek her advice on administrative matters mainly. "She has huge expertise in that area," he said.
Despite Gadkari attaching the association's letter with his March 9 letter stressing why CPS courses need to start immediately, Parekh claimed that the association did not approach him directly. He said it must be the CPS management that approached the minister.
"Mr Gadkari is a prominent personality and known to be a positive person. That could be the reason," said Parekh. He added that the association was formed nine months ago, and members want the impasse to end.
Admissions to nearly 1,100 CPS seats have not taken place since the MED didn't begin counselling. Joshi has maintained through her letters that till she didn't get a satisfactory response from CPS explaining the discrepancies, there is likely to be a status quo. Joshi had issued a showcause notice to CPS on March 14 and asked them to submit answers by March 21. TOI has learnt that while CPS representatives submitted documents on Tuesday, the management is likely to face more scrutiny.
With the issue getting a political colour, few officials are willing to speak openly. Medical education minister Girish Mahajan, who is learnt to be backing Joshi's action against CPS, couldn't be reached for comment. Dr Parekh said not all CPS colleges are bad and the solution cannot be shutting down a 110-year institution. However, several members of the medical fraternity have been calling for the CPS to operate with greater transparency.
(Inputs by Vaibhav Ganjapure)