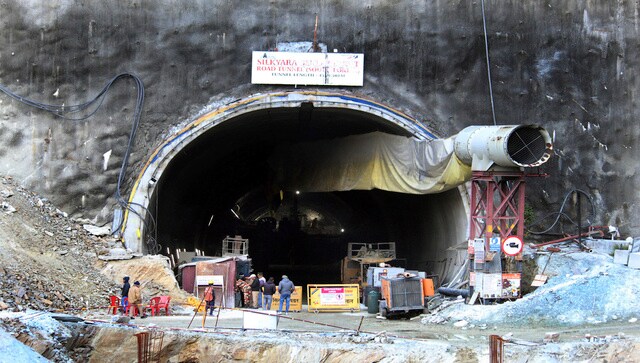 Rescuers achieved a significant breakthrough on Monday by successfully navigating a six-inch-wide pipeline through the debris of the collapsed Silkyara tunnel.
This development is crucial as it enables the delivery of larger quantities of food and the potential for live visuals of the 41 workers trapped inside for eight days.
Previously, a four-inch tube provided oxygen, dry fruits, and medicines to the section beyond the rubble in the under-construction tunnel on the Char Dham route in Uttarakhand.
Anshu Manish Khalkho, director of the National Highways and Infrastructure Development Corporation Limited (NHIDCL), termed this accomplishment as the "first breakthrough," with the pipeline reaching 53 meters beyond the rubble. His colleague Col Deepak Patil emphasised the significance of the next step, the rescue operation to safely extract the trapped workers.
Drones and robots from the Defence Research and Development Organisation (DRDO) are on-site to explore potential escape routes.
Horizontal boring through the debris is set to resume after a boulder temporarily halted progress. Additionally, the construction of a vertical rescue shaft, approximately 80 meters deep, has commenced, with the Oil and Natural Gas Corporation (ONGC) arranging additional equipment.
Prime Minister Narendra Modi discussed the situation with Uttarakhand Chief Minister Pushkar Singh Dhami, emphasising the importance of maintaining the morale of the trapped workers.
The Uttarakhand High Court took note Monday of a plea on the disaster. It has asked the state government to respond to it by Tuesday.
Food items such as porridge, khichdi, apples, and bananas are now accessible through the new pipeline. Plastic bottles with wide mouths will be used for packaging, and mobile phones and chargers may also be sent, positively impacting the psychological well-being of the trapped workers.
Uttarkashi Superintendent of Police Arpan Yaduvanshi is exploring the possibility of inserting a wire through the pipeline for live-streaming. The removal of the drill bit from the pipe is the next step, enabling the delivery of essential supplies. Endoscopy-like camera equipment from Delhi is expected to facilitate visual communication between rescuers and trapped workers.
With inputs from agencies