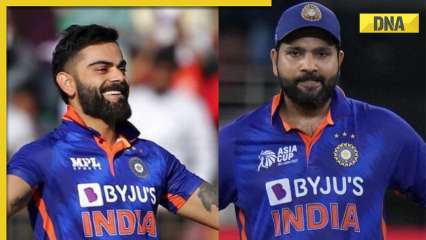 Indian captain Rohit Sharma is now under the radar of the troll army after facing a series defeat at home after four years. Comparison between succeeding captains is nothing new to the internet, similarly, the story continues after wrapping up a three match ODI series against Steve Smith-led Australia. Rohit Sharma was appointed as the captain of Indian cricket team back in February last year, succeeding Virat Kohli, and ever since many cricket fans have not accepted the change and hadn't left a chance to poke the skipper during his bad days.

After the completion of the third match, netizens had a busy day comparing Virat Kohli and Rohit Sharma as 5 times IPL winning captain was at everyone's fingertips. A netizen mocked the Indian captain by saying " please Mujhe kuch mat bolo maine 5 baar IPL trophy jeeti hai (Please don't tell me anything, I've five IPL trophies). While the other one said  "Gone those days when we used to win bilaterals for fun under Virat Kohli's captaincy Nowadays we are losing bilaterals and home tests under Rohit Sharma's captaincy Sack Rohit Sharma from captaincy immediately !!! #INDvsAUS"

Team India who is known for winning bilateral series, lost a home series after Australia crashed Rohit Sharma led India by 21 runs in the third ODI in Chennai. Suryakumar Yadav's third consecutive duck also put him under the trolling shadow.

With the ICC World Cup scheduled to happen in India in October this year, it is going to be a challenging tournament for the Indian captain. However, there will be a home advantage and fans will be wanting to see a repeat of the 2011 World cup.