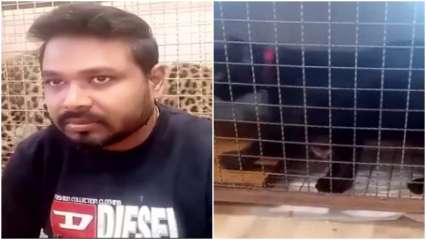 A  doctor from India, Dr Bandi Giri Kumar who is stranded in the war zone of Ukraine has refused to return home without his two pets including a 20-month-old male jaguar and a female six-month-old panther. He is more concerned about the safety of his pet jaguar and panther.

Dr Kumar has taken shelter in the basement of a building in the Donbass region of war-torn Ukraine and is accompanied by Italian dogs. He said that it is not just about his safety and survival but also that of his precious leopard and black panther. Kumar has refused to come to India without his pets.

Read | Haryana girl refuses to leave Ukraine, decides to take care of landlord's kids

Dr Kumar said that he had contacted the embassy but could not get any help from there. He said that my area is surrounded by Russian soldiers, he is trying his best. Kumar is a resident of Tanuku in Andhra Pradesh's West Godavari district.
Donbas | An Indian doctor Girikumar Patil famously known as Jaguar Kumar refuses to leave Ukraine without his pet jaguar & panther

"I called Embassy but didn't get a proper response. My place is surrounded by Russians but I'm trying my best. I treat them like my kids," he says pic.twitter.com/Ou5bT4bsN3


— ANI (@ANI) March 7, 2022
Bone doctor Dr Bandi Giri Kumar lives in Donbas with leopards, black panthers and Italian dogs. Donbass is the area of ​​Ukraine where fierce fighting is going on. Kumar said that it is a difficult task to rehabilitate these animals in India as it will require approval from many places and other arrangements have to be made. At present, they have only a little food and drink left.

Meanwhile, back home, YSR Congress MP V Vijay Sai Reddy lauded the close bond between the doctor and his pet.