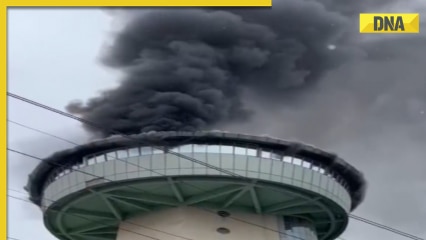 A sizable fire started at a revolving restaurant inside the Amravati shopping centre in Panchkula, Haryana. 

Several videos taken by residents showed the restaurant, which is located at a height, wholly engulfed in dense clouds of smoke. According to local accounts, the incident did not result in any injuries.
#WATCH | Haryana: Fire breaks out in a revolving restaurant at Amravati mall in Panchkula. pic.twitter.com/PkU0w5RWlS


— ANI (@ANI) March 31, 2023
This occurs as a large fire that started early on Friday morning in Bansmandi, Kanpur, Uttar Pradesh, near Hamraj Market, has been put out after almost seven hours. To put out the fire, some 16 firefighters arrived at the scene. The AR Tower was destroyed by fire, extending to adjoining Masood Complex buildings.

#WATCH | UP: Massive fire broke out during the early hours today in AR Tower in Basmandi area in Kanpur. 15-16 fire tenders on the spot to douse the fire. pic.twitter.com/w6WEjFkwhn
— ANI UP/Uttarakhand (@ANINewsUP) March 31, 2023
In a similar incident, a fire broke out at their home in Delhi's Shastri Park on Friday, killing six people, including a toddler, due to suffocation, a fire department official said.
A senior police officer claims that at around nine in the morning, the Shastri Park police station received a distress call informing them that a home fire had broken out at Mazar Wala Road, Machhi Market, Shastri Park.

According to PTI, when the officials arrived they discovered that nine persons had been transported to Jag Pravesh Chandra Hospital. Of them, four men, a woman, and a one-and-a-half-year-old child died. A 15-year-old girl and a 45-year-old man are being treated for burn injuries while a 22-year-old man was discharged after first aid, the police said.

More details are awaited.

(with inputs from agencies)