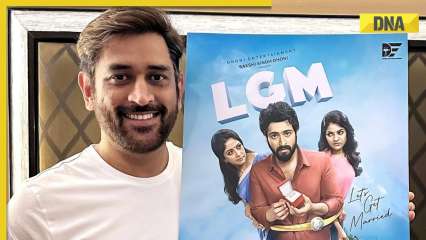 Harish Kalyan, the talented actor known for his romantic comedies, is back with another exciting project. This time, he has teamed up with Indian cricket legend Mahendra Singh Dhoni and his wife Sakshi Dhoni for the upcoming film titled LGM – short for Let's Get Married. Alongside Harish, the movie features Ivana, Nadhiya, and Yogi Babu in pivotal roles.

The film is directed by Ramesh Tamilmani and produced by MS Dhoni's production house, Dhoni Entertainment. The story is conceptualized by Sakhi, adding a unique touch to the film.
The teaser opens with Ivana suggesting an idea to Harish, leaving the audience curious about what it could be. However, it becomes clear that she is proposing marriage when she says, "Let's get married." Harish's friends are not thrilled with the idea and warn him about the potential consequences. We also get a glimpse of Nadhiya as Harish's mother, adding to the excitement of the film.
LGM promises to be a simple yet fun-filled story about the struggles the couple faces in getting hitched.

Watch: 
"We look forward to being here and doing more such meaningful stories. We are excited to start this fascinating journey today. I assure you that this fun-filled film will be one that the entire family can enjoy," Sakshi Dhoni said.

Chennai Super Kings, led by the legendary MS Dhoni, emerged victorious in the IPL 2023, securing their fifth title and joining Mumbai Indians as the only teams to achieve this feat. While rumors about Dhoni's retirement continue to swirl, the cricketing icon hinted at a possible return for one more season as a tribute to his loyal fans. However, he emphasized that his health would be a crucial factor in making this decision. It's worth noting that Dhoni recently underwent a keyhole surgery on his knee, but he's making a speedy recovery.

READ| Watch: Mohammed Siraj throws ball at Steve Smith in anger after latter walks away at the last moment