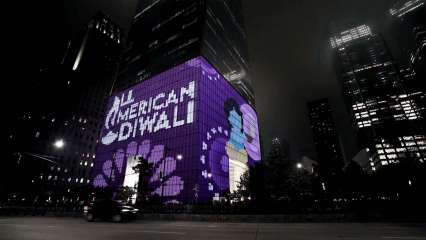 Hindu festival Diwali was celebrated with full zest and fervour not just in India but across the world. It's a day of colour, lights and celebrations and on this occasion, devotees worship Goddess Lakshmi, the deity of wealth and prosperity. 
But as more cultures across the world are intermingling, festivals are no more confined to a country or border. On Thursday as India celebrated the festival of lights, New York City was illuminated on the occasion of Diwali. Spectacular fireworks show lit up the sky on the iconic Hudson river.  The Empire State Building was also lit in Diwali colours.
But what remained special was that for the very first time Diwali-themed animation adorned One World Trade Center from November 2 at 6 pm till November 4 as part of the South Asian Engagement Foundation (SAEF)'s inaugural 'All American Diwali in New York City'.
The Diwali celebration also included a spectacular fireworks display that was viewed by audiences across the city. "There is no better symbol of the triumph of resiliency than the World Trade Center and we are very fortunate to work with The Durst Organization to bring this message to all," said Rahul Walia, Founding Trustee of South Asian Engagement Foundation.
Wishing everyone a #Diwali full of brightness, light and joyous moments. #ShubhDiwali@spireworks @americandiwali pic.twitter.com/S17Bpweby4

— One World Trade (@OneWTC) November 3, 2021
The New York City Police Department (NYPD) conducted a ceremonial Colour Guard with One World Trade Center as the backdrop. American Singer cum Actress Mary Millben also performed the US national anthem and a verse from the popular Diwali hymn-Om Jai Jagdish Hare.
Meanwhile, top UN officials extended greetings to all those celebrating Diwali around the world. United Nations Secretary-General Antonio Guterres tweeted, "Happy #Diwali. My best wishes to all celebrating." 
World Health Organization Director-General Tedros Adhanom Ghebreyesus also tweeted, "May the lights of #Diwali bring good health and happiness to everyone celebrating."