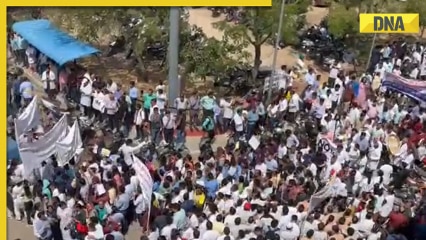 Doctors from the public and commercial sectors and every district in Rajasthan protested the Right to the Health Bill on Monday in Jaipur. The Indian Medical Association (IMA) posted a video of the protest and said it was 3–4 miles long, with more than 50,000 medical and paramedical workers walking for 5–6 kilometres. The contentious bill grants people the right to free emergency care at public hospitals and privately run facilities for the uninsured.

Doctors from the Govt and Private sectors from all districts of Rajasthan gathered in Jaipur to protest the #RTH bill. The rally was 3-4 miles long, with over 50000 medical and paramedical personnel marching for 5-6 kms. pic.twitter.com/uyhSndNXQP
— Indian Medical Association (@IMAIndiaOrg) March 27, 2023
50000+ Doctors came on road and protested against Rajasthan Government.

Right to Health law which is recently passed by Government is unorganised and poorly designed. #Rajasthan_Support_RTH ?! #Doctors pic.twitter.com/gDseoPp39p
— Dr Syed Faizan Ahmad (@drsfaizanahmad) March 27, 2023
The rally, which began at the Sawai Man Singh (SMS) Hospital and passed through several areas of the city, was attended by medical professionals, their families, and medical shop owners from across the state.
(Also Read: Eastern Peripheral Expressway to connect Delhi-Dehradun, Delhi-Mumbai, Yamuna Expressway; will cut time to reach UP, MP)

Why Rajasthan doctors are protesting?

Earlier, the Indian Medical Association (IMA) demanded a national "black day" to protest the divisive bill. The Act, which grants rights to any person to access free care along with "emergency treatment" at any health institution in the state without prepayment, has been the target of protests from doctors across the state, including the Rajasthan chapter of the IMA.
The purpose of the rally was to raise awareness of the need to remove the Act. Private doctors have threatened to withdraw their hospitals from any future state-sponsored healthcare programmes.

Healthcare experts have objected to several parts where the definition of "medical emergency" is unclear and have questioned how private hospitals will be reimbursed for their costs. They have also voiced opposition to the formation of a grievance committee to handle patient complaints.