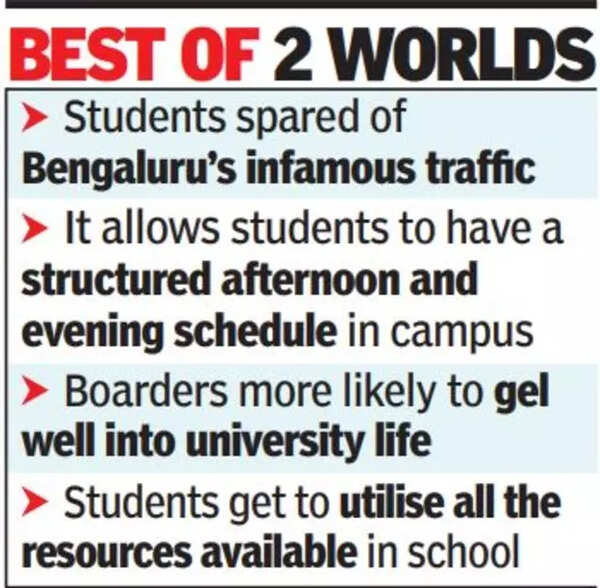 BENGALURU: Bengaluru's notorious traffic and the increasingly busy life styles of parents have resulted in a growing popularity of weekly boarding facilities in schools.
Schools offering weekly boarding -where students stay in school hostels from Monday to Friday and head home for the weekend – have seen a rise in enrolment in recent times.
Canadian International School, which offers such facility to its students from grade 6 onwards, has pupils from Basavanagudi, Bannerghatta and Sarjapur areas residing as boarders at their Yelahanka campus. "Post Covid-19, we resumed the weekly boarding option, we are noticing an increase in students opting for it," said Meredith Mehra, head of admissions in the school.
'Boarders likely to assimilate better into life in university'
She added: "Apart from avoiding the traffic, it also allows students to have a structured afternoon and evening schedule that incorporates activities and study time, thereby aiding their overall growth and learning."
This was echoed by Sarojini Rao, principal, Indus International. "Students may not be able to utilise all the resources available in a 9am-4pm school schedule. Parents may also like their wards to optimise school facilities. That is why weekly boarding is popular, particularly in grades 9-12," she said.
The school has 40 weekly boarders out of its total strength of 300 boarders. The trend seems to have grown after the pandemic.
Karn Agarwal, a businessman living in BTM Layout whose son is in grade 7 at The International School Bangalore as a weekly boarder, said: "I was a boarder myself when in school and I used to see my parents in five-six months. Now, with weekly boarding, I can see my son once every 4-5 days. With this, I am around but not hovering around. While allowing him enough room to be independent, it also gives him the comfort, knowing that if need be, I can reach him anytime."
"A lot of parents are opting for this model owing to the long daily commute time, need to instil discipline in kids, allow students more time to utilize for their studies and to cater to after-school activities and sports. This offers the best of both worlds," said Niru Agarwal, trustee, Greenwood High International School. "There is also a perception that children who are boarders are more likely to assimilate well into the university life, having already acquired the skills to live independently and be self-confident."
Robert Khin, principal of Bethany High, said student numbers are yet to get back to the normal level. "Many households have both the parents working, leaving them with little time to take care of the academics when children are back from school. They also want their children to be disciplined."
The upcoming UK-based Harrow International School Bengaluru is offering weekly boarding option at its new campus in Yelahanka, which starts functioning in August.