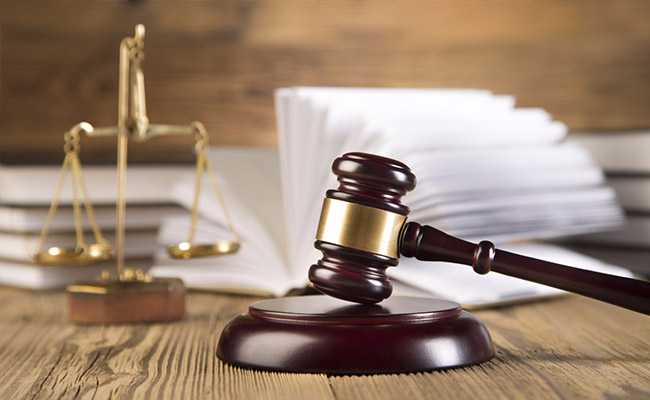 Kolkata:
The West Bengal Bar Council on Friday said that 'black day' will be observed on Monday, alleging one-sided issuance of Rule to "curtail" lawyers' right to protest even as its chairman said it wants to maintain good relation between the bar and bench.
Justice Rajasekhar Mantha has issued a rule of contempt against some advocates and other persons who allegedly blocked his courtroom and locked it from outside and also over derogatory posters outside his residence on January 9, holding that the acts amount to interference in the administration of justice.
In a notice to all bar associations in West Bengal, the council said that a meeting of it has decided to observe 'black day of lawyers' to protest what it termed "arbitrary/one-sided issue of rule to stop/curtail the right of lawyers to protest without giving an opportunity of being heard." The council asked the lawyers to put on black tag on their dress on Monday from 10.30 am to 5 pm as a mark of protest.
Bar Council of West Bengal chairman Ashok Deb said that a delegation led by him met Chief Justice Prakash Shrivastava on Friday.
Stating that the Bar Council wants to maintain "good relation between the bar and the bench," Deb said, "we have urged the Chief Justice, as our guardian, to try and resolve the issue at Justice Mantha's court." He said that the state Bar council will cooperate in such effort.
Deb, who is also a ruling Trinamool Congress MLA from Budge Budge constituency in South 24 Parganas district, said that while doctors, teachers or professors can agitate over some issue, it cannot be that advocates cannot raise their issues.
"We have said that action should not be taken against any advocate without proof," he said, seeking that a committee be formed to deal with the issue.
Protests were held by a section of lawyers outside Justice Mantha's courtroom on January 9 over certain orders passed by him.
Holding that there is interference in the administration of justice by a section of advocates and some persons, Justice Mantha said "There has been a clear attempt to interfere with the justice delivery system of this Constitutional Court by the said section of the Advocates and persons, by locking up the courtroom from outside and preventing access to the courtroom to lawyers, litigants and court staff." Issuing the suo motu Rule of Contempt on January 10, Justice Mantha said that the Registrar General of this Court can identify the names and particulars of the said advocates and persons from the CCTV footage of the date and time outside his courtroom.
The small section of lawyers were on Monday agitating over some orders passed by Justice Mantha, including one passed in December last that gave protection to Leader of Opposition in West Bengal Assembly and BJP MLA Suvendu Adhikari directing the state police not to register any more FIRs against him without the high court's permission.
Justice Mantha had also stayed all the FIRs referred to in a petition by Adhikari, wherein he claimed that 26 FIRs had been registered against him in different police stations of the state to prevent him from performing his function as a people's representative at the instance of the ruling dispensation in the state.
(This story has not been edited by NDTV staff and is auto-generated from a syndicated feed.)
Featured Video Of The Day
Rahul Gandhi Visits Ex Minister Sharad Yadav's Home, Consoles Family