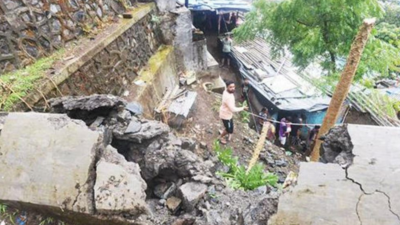 A stone slab crashed into a slum from an adjoining hill at Bharat Nagar
MUMBAI: Over a week after the IMD declared the onset of the southwest monsoon over Mumbai, the city experienced its first continuous wet spell with heavy showers in a few locations on Sunday. Areas like King Circle, Chembur, Dadar and Parel reported frequent rain activity. There was low visibility in many areas. IMD has issued an orange alert for June 20-21, indicating more rain. Richa Pinto reports.
2-yr-old struck by lightning dies; 2 injured in landslide
A two-year-old boy, Yash Ghalal, playing in the compound of his grandparents house in Manor, was killed when lightning struck on Sunday. Villagers rushed him to the Manor rural hospital where he was declared dead. In another rain-related incident, two people were injured after a stone slab crashed into a slum from an adjoining hill at Bharat Nagar, Chembur on Sunday.
The two, Arvind Prajapati and Ashish Prajapati, were rushed to Sion hospital. In the 24 hours ending at 8.30am on Sunday, the IMD Colaba observatory recorded 9.5mm of rain while the IMD Santacruz observatory recorded 16.2mm of rain. While on Sunday, from 8.30am to 8.30pm the IMD Colaba observatory recorded 48.4 mm rain,Santa Cruz observatory recorded scanty rainfall at 2.4 mm. The total rain recorded this season by the Colaba and Santacruz observatories has been 152mm and 115.3mm.
In its five-day forecast, the weather bureau has indicated that rain activity will continue till Thursday, June 23. Many weather enthusiasts, were upset over the IMD Sband Doppler Radar not functioning and claimed that the frequency of it being down, especially during heavy rain events, was only increasing. Some of them even took to social media raising questions on how it will affect disaster management.
"Observations from the Doppler radar at Mumbai Colaba have been suspended, whereas those from the radar at Veravali have a massive lag of around one hour. Ideally, this radar must scan after every 10–15 minutes. How is this going to help disaster management?" asked Akshay Deoras, an independent meteorologist who is a PhD student at the Department of Meteorology, University of Reading in the UK, in a tweet. A senior IMD official said that a part of the radar at Navy Nagar gave way last week and that they are awaiting a replacement.
The Sband Doppler weather radar is situated atop a building in Colaba's Navy Nagar area. S-band radar can track weather up to a 500km radius. The Doppler radar made an entry into the weather bureau after July 26, 2005, when the city received 944mm of rainfall that led to a deluge. The second radar at Veravali is meant to facilitate improvement in weather forecasting over the Mumbai region.
FOLLOW US ON SOCIAL MEDIA
FacebookTwitterInstagramKOO APPYOUTUBE