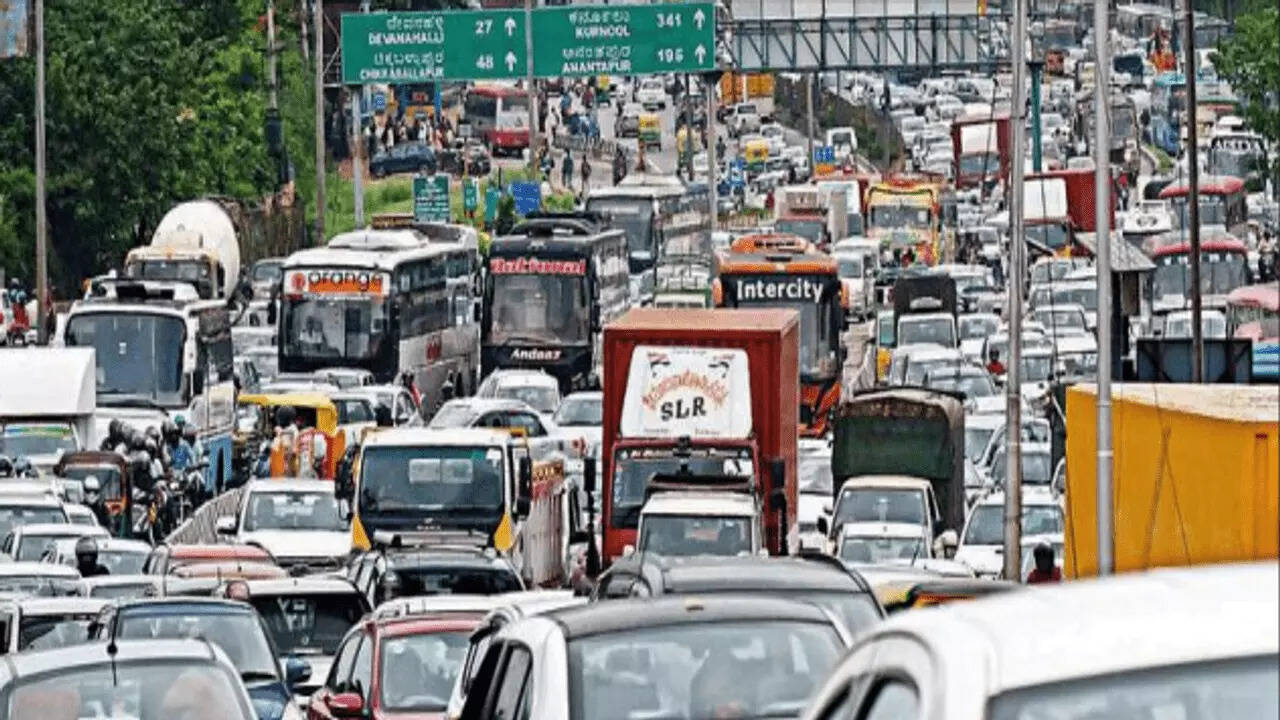 NOIDA: To ease traffic congestion in bustling Bengaluru, the Karnataka government has been advised to
impose a congestion tax on vehicles entering the city
through high-density roads during peak hours.
What is congestion tax?
Congestion tax is a system of charging vehicles to enter certain areas of a city during peak hours. It is a popular tool to reduce traffic congestion, air pollution, and greenhouse gas emissions. It can also help to strengthen public transportation by encouraging people to switch from private vehicles.
Is congestion tax a good idea for Bengaluru?
Experts say congestion tax is a good idea for Bengaluru. The city is struggling with severe traffic congestion, and a congestion tax could help to reduce the number of private vehicles on the road. This would make it faster and easier for everyone to get around, and it would also improve air quality.
How congestion tax will help Bengaluru?
BMTC officials believe that a congestion tax in high-density corridors would discourage private vehicles and encourage public transport, as it would make driving more expensive and public transport more attractive.
How Bengaluru is planning to collect congestion tax?
FASTag, which has been successfully implemented here since 2021, could be used to collect congestion tax for ease and convenience. Toll machines would be placed at major access points to busy areas, and vehicles would be photographed with cameras as they cross the toll points. The congestion tax would then be automatically deducted from the vehicle owner's bank account.
Has congestion tax system been implemented in any other Indian city?
No. Similar proposals for congestion taxes in New Delhi and Mumbai failed in the past, largely due to political opposition and lobbying from the private car industry.
What are the high-density corridors in Bengaluru?
The high-density corridors in the city include Outer Ring Road, Sarjapur Road, Hosur Road, Old Airport Road, Old Madras Road, Ballari Road, Bannerghatta Road, Kanakapura Road, Magadi Road, West of Chord Road and Tumakuru Road.
Which major world cities have congestion tax system?
Singapore, London, and Stockholm are all examples of cities that have successfully implemented congestion pricing.

Singapore: Singapore's congestion pricing system is fully automated and uses variable charges depending on the time of day and the specific area of the city.

London: In London, vehicles entering central London during business hours on weekdays have to pay a charge.

Stockholm: In Stockholm, there is a tax on vehicles entering the city on weekdays during the day.