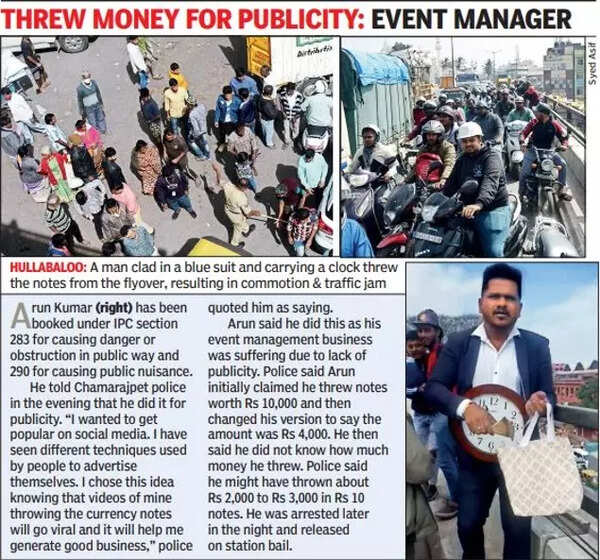 BENGALURU: Motorists and pedestrians moving under Mysuru Road flyover at KR Market on Avenue Road during peak hours on Tuesday morning were in for a pleasant surprise when it began raining currency notes, mostly of Rs 10 denomination and also some of Rs 100 and Rs 200.
Vehicles ground to a halt as people ran helter-skelter to grab as many notes as they could, plunging the entire area into chaos.
"For a moment, I could not believe my eyes. One after another, five currency notes of Rs 10 denomination fell before me from the sky. I looked up and saw two more notes in the air and caught hold of them. By then, people around me too experienced the same," Suresh Babu, an autorickshaw driver from Gavipuram in Chamarajpet, who was standing next to his vehicle beneath the flyover, said.
Looking around, Suresh saw that currency notes continued to fall on pedestrians, motorists, traders on pavements and others. It was around 10.50am when a man clad in a blue suit began showering the notes from atop the flyover. The man sported a large wall clock on his chest.
His act resulted in a huge traffic jam on and beneath the flyover as motorists abruptly parked their vehicles in the middle of the road and ran to collect the currency notes. Pedestrians and traders from shops nearby joined the melee.
The man went around talking to motorists on the flyover and drew their attention as he pulled out notes from a bag and threw them below. He was quoted by eyewitnesses as saying that he was upset in life. The drama continued for about 15 minutes.
A police constable, who was manning traffic below the flyover, shouted asking the man to stop the drama. By then, Sunil Kumar, a head constable from City Market police station, reached the spot but before he could speak, the man rode away in a gearless scooter in the direction of Town Hall.
Within no time, videos of the 'currency shower' began trending on social media and reached senior IPS officers. The videos recorded the man throwing the notes as well as the chaos below. "How careless are our people? To collect those currency notes, they are running in between moving traffic. What if they meet with an accident?" said someone in one of the videos.
"They are not original currency notes," said another man. "Someone pull him back. What if he jumps down…? Already, he has said he was not happy in life," a motorist below was heard saying.
DCP (west) Laxman Nimbargi, who was attending a weekly meeting with police commissioner CH Pratap Reddy, was asked by the top cop to look into the issue immediately.
Soon, police teams traced the man to his residence in Nagarabavi, identified him as Arun Kumar, 30, an event manager and YouTuber, and served a notice on him to appear before them. Police said at least two of the videos were filmed by Arun's friends, while the rest were shot by enthusiasts.