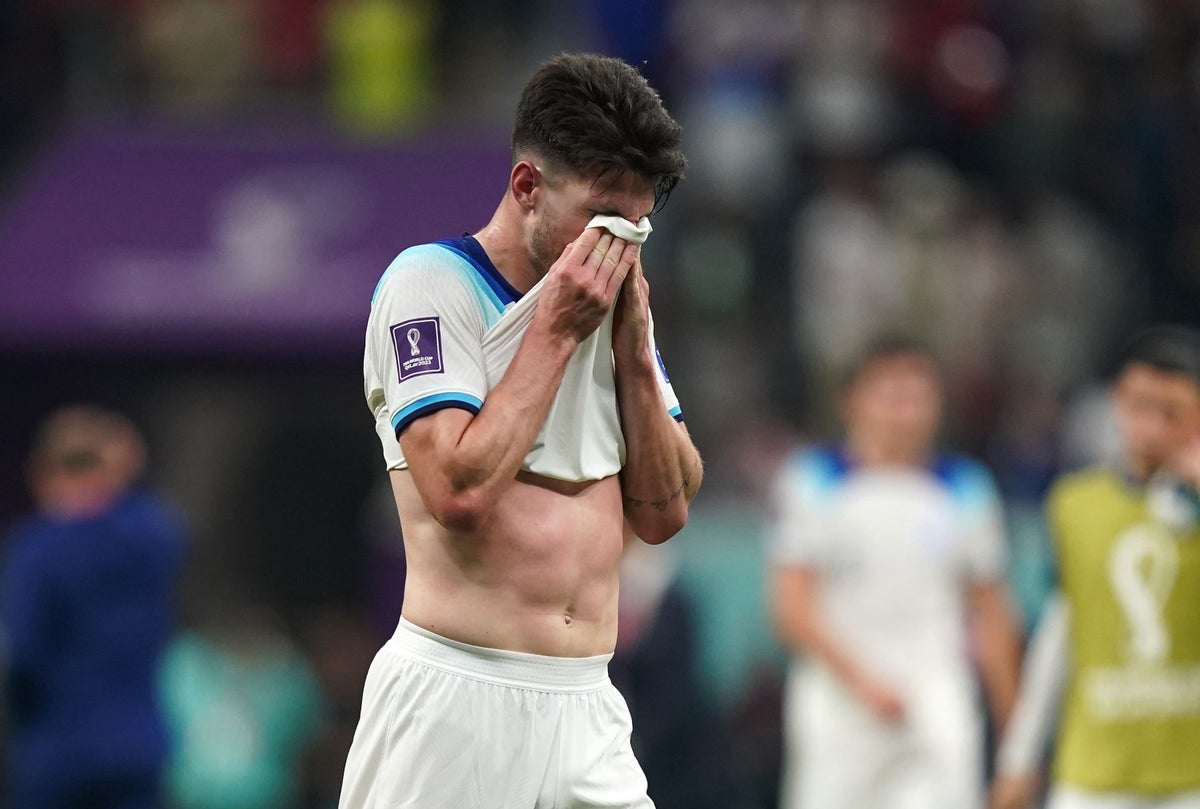 World Cup: Sluggish England frustrated in US stalemate
England crashed back down to earth on Friday evening as they played out a goalless draw against the USA in Group B to leave them still needing a result against Wales in their final group game. The Three Lions' performance could not have been more contrasting to their opening match against Iran, where they should fluid movement, a clinical eye for goal and a fearlessness in attack. Last night was the opposite, Gareth Southgate's men lost control of midfield, looked sluggish throughout and struggled against a team they would have expected to dominate.
It was only fortune – and a brilliant defensive performance from Harry Maguire – that saw England leave the game with a point. USA's talisman Christian Pulisic rattled the woodwork in their closest attempt at goal but it will be frustrating for Southgate to see how easily the US piled pressure on England's final third. The performance was so poor that England were booed off the pitch at the end of the game and now need a result against Wales to qualify.
Unnecessary pressure has been lumped on the manager's shoulders due to the draw and it didn't help that he decided to keep Phil Foden on the bench when the game was crying out for more creativity. Southgate knows he will be judged on results and should England cruise past Wales on Tuesday this result will be a but another blip in the record.
Follow all the latest news from the World Cup in our blog below:
1669454633
Chastening Wales World Cup defeat prompts feeling of the end of an era
Aaron Ramsey's exit was overshadowed. One of the players of Euro 2016 slipped out of his penultimate game of the 2022 World Cup, and surely any World Cup, amid the chaos caused by Wayne Hennessey's sending-off. He was sacrificed for a substitute goalkeeper, with Danny Ward's cameo involving the concession of two goals. The recipient of the first red card in Qatar was hugged by his friend Gareth Bale on his way off.
Wales football would not be at their first World Cup since the 1950s without Hennessey's heroics against Ukraine, but his tournament is over and, after defeat to Iran, theirs nearly is. "We want to finish the competition on a high," said manager Robert Page; it seemed realism rather than defeatism, to say their derby with England will be the end even though, mathematically, Wales' fate was not sealed.
When Ramsey was removed, Bale remained on the pitch. Page's tactic was to hope against hope a player with the propensity to produce something special out of nothing could turn rescuer again. He couldn't; indeed he never threatened to. The faith in him stemmed from the evidence of his career, not the preceding 85 minutes.
Michael Jones26 November 2022 09:23
1669453735
England turn to Wales after goalless World Cup draw with USA
Expectations were high after kicking off the World Cup with a 6-2 thrashing of Iran, only to be given a reality check in Friday's Al Khor contest.
Christian Pulisic rattled the crossbar in the first half as Gregg Berhalter's American side threatened to cause an upset against an England team that created precious little across the 90 minutes.
The goalless draw meant Southgate's side blew the chance to wrap up progress to the knockout phase with a game to spare, leading to loud jeers echoing around Al Bayt Stadium at the final whistle.
Michael Jones26 November 2022 09:08
1669453113
England add 'USA 22' to their collection of stodgy tournament games
I believe that that was bad. Not Nice bad. Not Cape Town bad. Certainly not Belo Horizonte in 1950 bad. But be in no doubt, after the fluidity and free-scoring of Monday's opening game and the hope that England's struggles since the turn of the year could be behind them, this was a return to stodgy, uninspired, set-piece reliant fare that has pockmarked the Gareth Southgate era, and it was bad.
Southgate warned that this would be a very different game compared to Iran. He was right about that. But he also predicted that it would be played at "100 mph" and that his players would have to be at it from the first whistle. If that was the type of contest he was expecting, he expected wrong, and perhaps that misreading of the challenge that the United States posed was at the root of England's below-par performance.
Long passages of the first half resembled the vision of this sport from the States' most popular and successful cultural export. Halfback passed to centre, back to wing, back to centre, centre held it. Held it. Held it. John Stones ended the first half with the most touches of any player on the pitch, while Harry Maguire and Kieran Trippier were not too far behind. England's build-up did not get off the ground floor.
Michael Jones26 November 2022 08:58