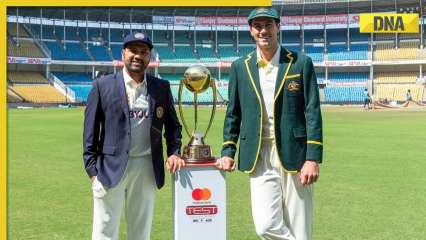 India and Australia are set to face off in the highly anticipated World Test Championship Finals at The Oval in London from June 7 to June 11, 2023. Both teams have already confirmed their 15-player squads for the event, with Team India qualifying for the Test event for the second time. After losing to Kane Williamson-led New Zealand in the previous edition, India is determined to emerge victorious this time around.

In preparation for the WTC Finals, the Board of Control for Cricket in India (BCCI) recently took to Twitter to unveil the new Adidas kit of the Indian team for the IND vs AUS WTC Final Test. Meanwhile, the International Cricket Council (ICC) has also announced the match officials for the highly coveted Test.
Australia has always been one of India's greatest arch-rivals in international cricket, and their matches have never failed to captivate audiences worldwide. As we eagerly await the upcoming showdown, let's take a look at the head-to-head statistics between India and Australia.
Head-to-head in Tests

India and Australia have been fierce competitors on the cricket field since India gained independence in 1947. The first time these two teams faced off was when Team India traveled to Australia to take on the mighty Aussies. Unfortunately, Australia easily won the series and continued to dominate the rivalry for the next three decades, winning six test series out of seven.

It wasn't until December 1959 that India finally secured their first Test win against Australia in Kanpur. However, it took another 20 years for India to win their first-ever Test series against Australia in 1979. In recognition of the legendary duo Sunil Gavaskar and Alan Border, the ICC renamed the test series between India and Australia in 1996.

Today, IND vs AUS is the most-watched rivalry in sports, with every series featuring memorable moments, astonishing individual performances, heated moments, and controversies. 

Matches Played: 105

India Won: 32

Australia Won: 44

Tied: 1
Draw: 28

Head-to-head in WTC

Matches Played: 8

India Won: 4

Australia won: 2

Draw: 2

At the Oval

Upon examining India's performance in their last five matches at The Oval, it is evident that they have only secured one victory. Regrettably, they have suffered three losses, with the remaining match resulting in a draw against England.

Similarly, Australia has only managed to secure one win in their previous five games at The Oval. Their triumph came in 2015 when they defeated England by an impressive inning and 46 runs.

READ| IPL 2023 final: Sakshi Dhoni's viral reaction after MS Dhoni got out on 0 in CSK vs GT match, watch video